---
Torque Of The Town!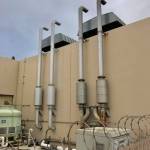 This is real Gear Head Porn…we just reworked our Diesel engine development dynamometer. It had a limit of 4000 rpm and 3000 lbft. We just took that to 7000rpm and 3600 lb-ft. At Banks our Hot Rodding is like the plague, it infects everything in this place! And that's exactly why we all show up ... Read more about this post
Cal Poly Pomona Formula SAE Road Race Car!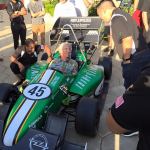 This car is going to Germany to take on the world, and they're from my school, Cal Poly Pomona! As Chairman of the NHRA Motorsports Museum Educational Committee, think of the pride I feel in the Cal Poly Pomona students and their latest road racer. This thing is just flat beautiful! This car is going to Germany ... Read more about this post
My Friend David is going to the NHRA! Let's wish him well!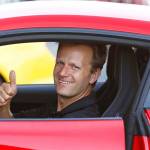 I'm 58 years into my career and I have a circle of friends numbering in the thousands, one of them is this young man. His name is David Kennedy. David has lead two exceptional magazines important to my career. Those magazines, Diesel Power and Hot Rod became even more exceptional because of David's vision and his ... Read more about this post
'Speed Bump' Meets Rudolph Diesel!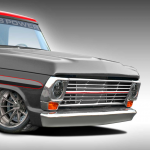 Hey, Sean Holman and all you guys at the Truck Trend Network, I'm having my way with your truck! Your F-100 now has a Banks Diesel Powertrain sitting in it! Project Speed Bump is getting the full Banks treatment, engine, 6-speed, AutoMind ECU and more in our RaceShop! Banks 630T Diesel V6 on the engine Dyno. We ... Read more about this post
Episode #6: Turbocharging Jay Leno's Tank Car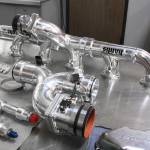 Three pumps, no waiting! On the wet side of the EFI system, Bosch provided us with their 200 liter-per-hour, 5-bar (72 psig) electric fuel pumps. With each pump putting out just under one gallon per minute, it'll take three of them in parallel to feed this monster. Read more about this post
Episode #5: Turbocharging Jay Leno's Tank Car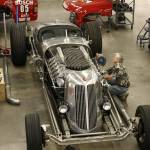 Episode #5: Electronic Fuel Injection Jay Leno's Tank Car is just one of several high profile development programs ongoing in the Banks Advanced Prototype Engineering labs. Read more about this post
Episode #4: Turbocharging Jay Leno's Tank Car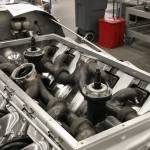 Jay to Gale: Hey, Can You Banks This? Part Four in a Series. Follow along with us as we take a behind-the-scenes trip through the Banks Advanced Prototype Engineering laboratory to view the magical transformation of a Cold War-era giant into a modern superpower. Read more about this post
Episode #3: Turbocharging Jay Leno's Tank Car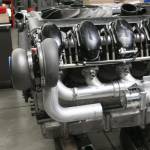 Follow along with us as we take a behind-the-scenes trip through the Banks Advanced Prototype Engineering laboratory to view the magical transformation of a Cold War-era giant into a modern superpower. Read more about this post
Episode #2: Turbocharging Jay Leno's Tank Car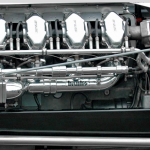 I've built twin turbo gasoline engines for boats, race cars & hot rods for over 40 years and nothing comes close to the fun I had turboing and fuel injecting Jay Leno's 30 Liter V-12! Here's episode 2 of a once in a lifetime build. Gale Banks Read more about this post
Episode #1: Turbocharging Jay Leno's Tank Car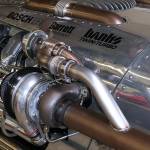 Jay Leno does me favors, so I thought I'd even the score! I had no idea how much fun that would be! Gale Banks Read more about this post