Diesel Power
February 2011
INSTALL INSTRUCTIONS
Please read through the following instructions thoroughly before starting your installation. If you have any questions please visit our Support Page.
Craftsman Tools and Diesel Power magazine build the ultimate 6.4L Ford F-250.
When Diesel Power magazine was contacted by Craftsman Tools to help build the ultimate bolt-on Ford diesel pickup, we jumped at the chance. Hot Rod and Petersen's 4-Wheel & Off-Road magazines were also in on the challenge, each with their own modified versions of the Ford trucks. Our goal with this 6.4L-powered '10 Ford F-250 was to be able to keep up with Hot Rod's truck in a drag race, while performing just as well as 4-Wheel & Off-Road's on the trail. While the other two trucks would be focused on doing just a couple of tasks, ours could do it all, and do it well—which is what owning a new diesel truck is all about!
Click the image to get a PDF of the whole story! (1.4 MB)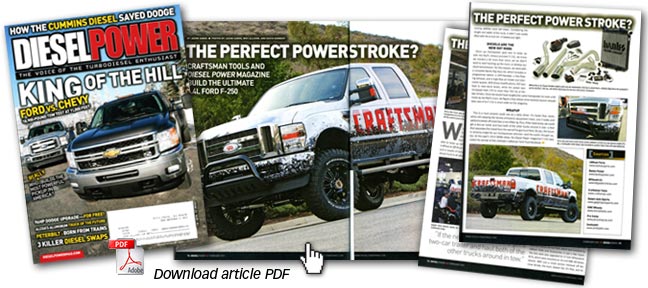 ---

Be sure to visit the Diesel Power website »