RUST REPAIR: LOKJAW IS MADE WATER-TIGHT—AND ONE STEP CLOSER TO FINISHED
Driving Line
September 18, 2021
By Mike McGlothlin
It wasn't given the name LokJaw for nothing. Still, a water-tight cab is nice—and a structurally sound one is even better. Reason enough for Banks to drop its '66 C20 off at Ventura, California's Empire Fabrication for some next-level sheet metal work. Don't worry, there are no preparation's being made to paint the truck. Rust is still set to dominate LokJaw's curb appeal. However, the areas in the old Chevy's body that looked like swiss cheese were in obvious need of addressing. After leaving the truck in the care of Empire's Sean Ramage—who we're told is fully up to date on all of his tetanus shots—he set to work practicing a craft that he's all but mastered. Just take a look at his workmanship below.
With the rust gremlins addressed, Sean could finally get busy building the custom transmission tunnel, engine bay and bed skin. No sweat…SEMA is only weeks away!
Another First-Rate Partner In The LokJaw Build
What Bank's LokJaw project has proven, beyond a shadow of a doubt, is that during the course of six decades' worth of automotive excellence they've gained some pretty talented contacts. One name that Banks enjoys a great working relationship with is Empire Fabrication. As far as metal fabrication is concerned, Empire is a goldmine, with custom sheet metal, body modifications, TIG welding and roll cage building all being a regular part of this company's workday.
Floor Rot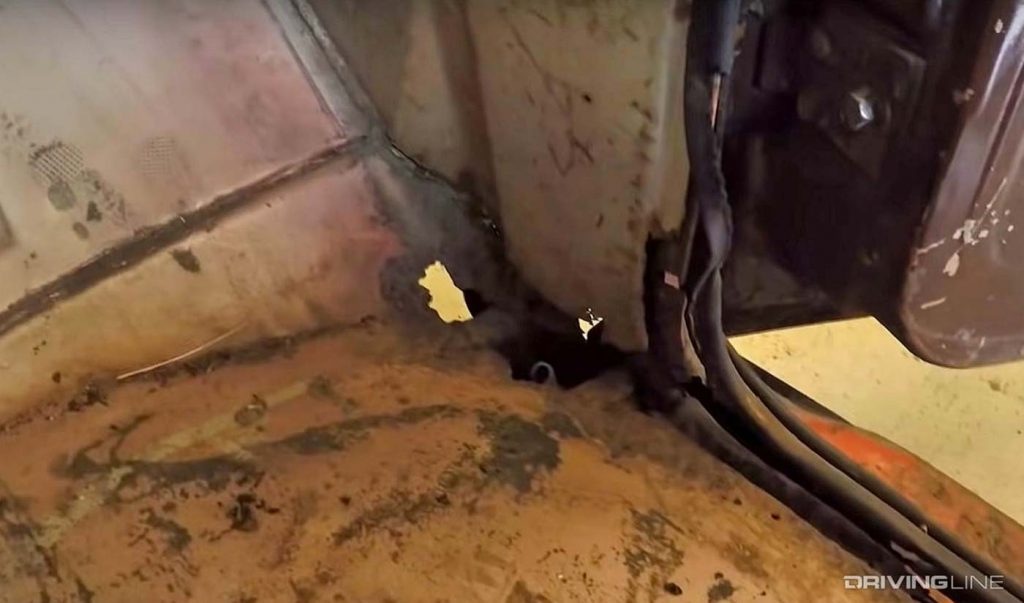 Seeing daylight through the floorboard is never a good thing. Unfortunately, it's one of the first areas to succumb to corrosion in a rust onslaught. Here, Empire Fabrication's Sean Ramage admires the damage in the passenger side floorboard/kickboard area, which he spotted while discussing the fabrication required for the transmission tunnel with the Banks' team. As for the transmission tunnel, it will definitely be a noticeable feature inside the cab but will be made to clear the monstrous Allison by ½-inch on all sides.
Roof Repair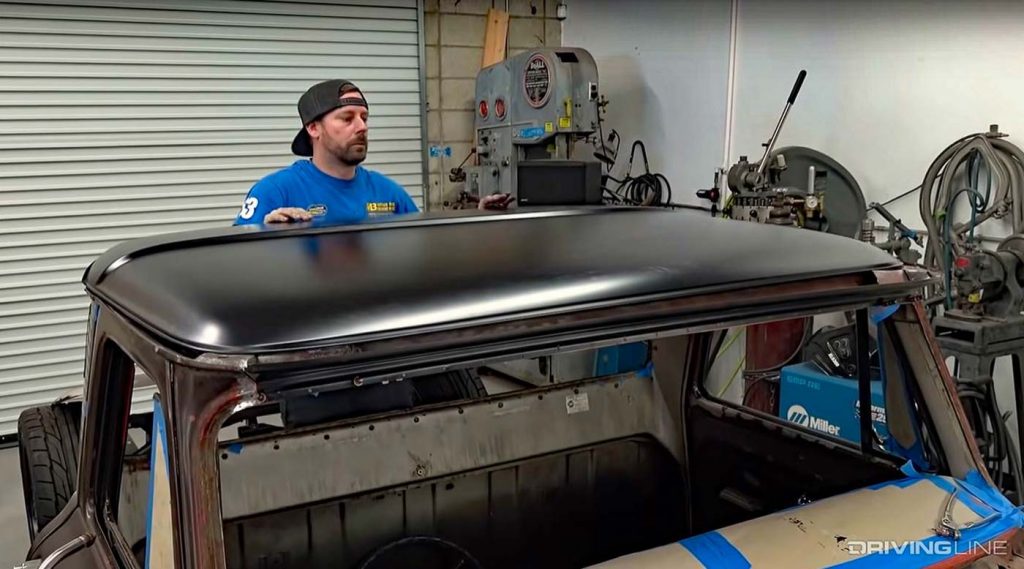 Numerous holes were also present in the roof of the cab. To remedy the damage, Sean tackled getting the new roof panel fully welded in and groomed. He applied a rust inhibitor inside the roof to protect it from rusting in the future and then installed new matting for the insulation before welding the roof skin onto the cab.
The Seamless Fix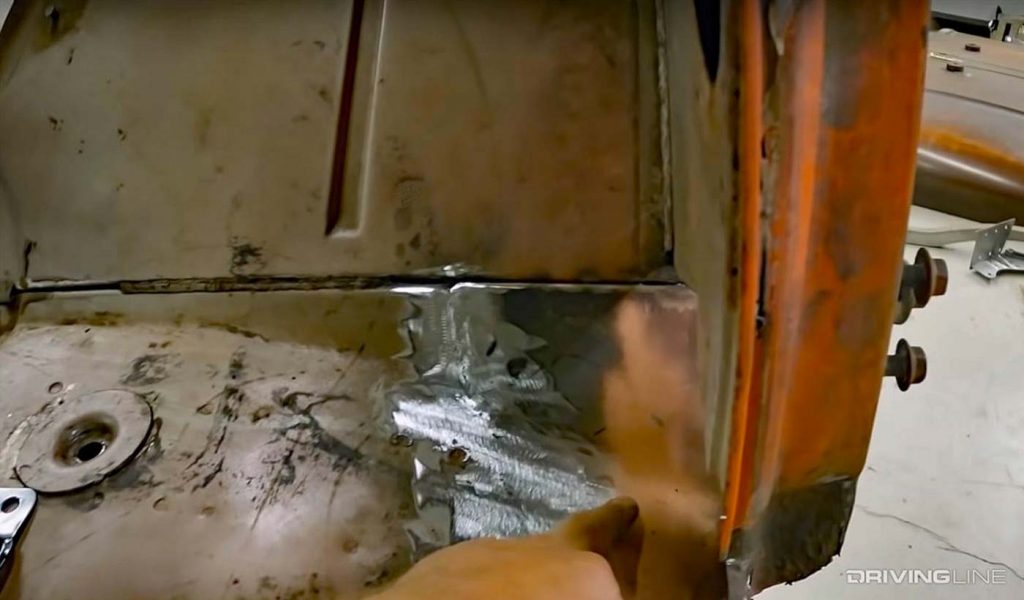 With a bit of time invested in the passenger side floor rot, this was the result. Sean skinned down the passenger side rocker and then essentially replaced the floor from the kickboard downward. This is the kind of stuff that goes unnoticed by most when a project is all said and done, but it's absolutely vital that it be performed—and performed correctly.
Lower Door Panel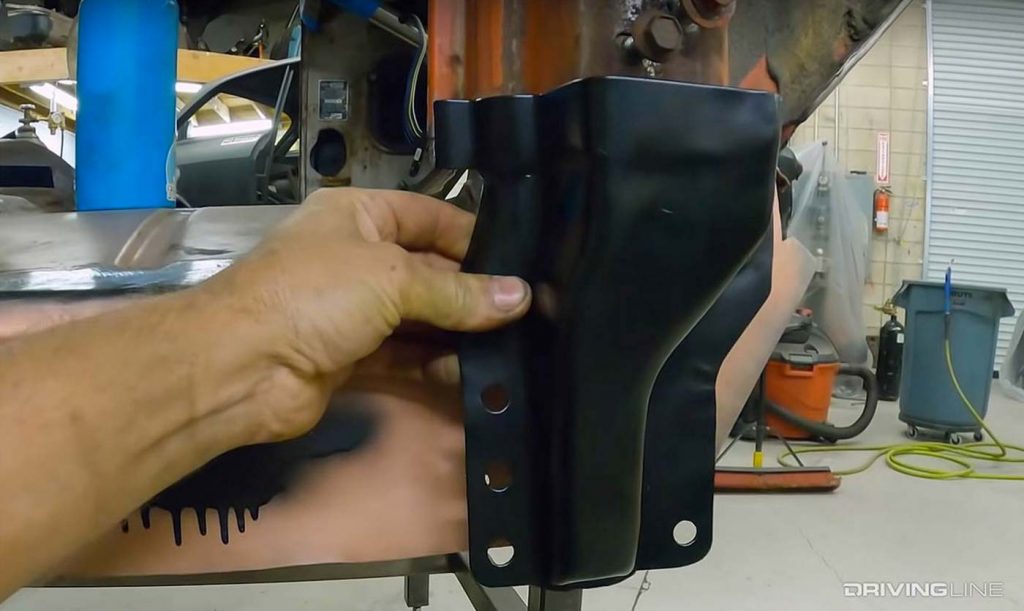 Due to their location right behind the front tires, the lower door panel pieces are common points of corrosion on '60-'66 Chevy trucks. The original passenger side panel on LokJaw was deemed structurally questionable and so it was replaced. It was a different story on the driver's side, where nothing more than light surface rust was present. However, the driver-side footwell panel—having suffered a bit of the swiss cheese effect—did need to be fixed.
New Sheet Metal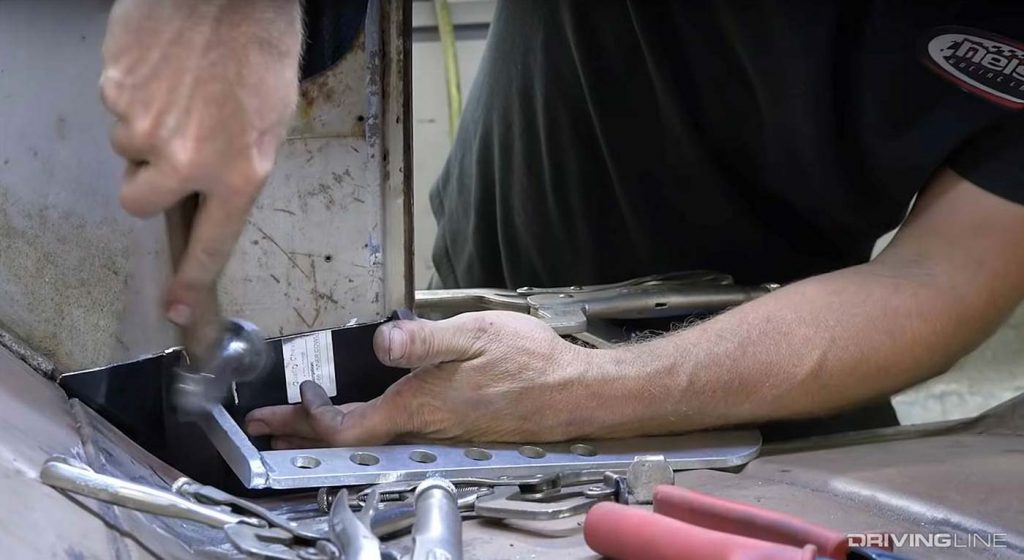 Above, Sean massages the new, lower passenger side kick panel sheet metal into shape after cutting out the questionable section. That was followed by a new passenger side outer rocker panel being mocked up prior to being fully welded into place.
The Disappearing Fuel Door Act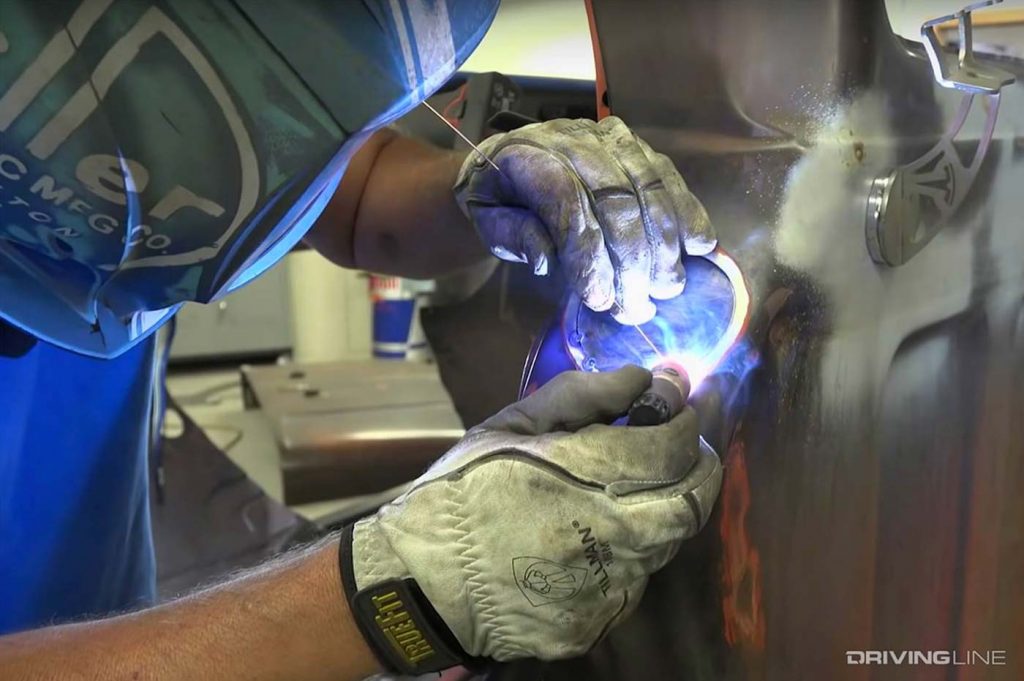 And for his next trick, Sean bid farewell to the truck's original gas door. In an effort to get as much weight rearward of the rear axle as possible, LokJaw's diesel fuel cell will soon be located behind the Strange 9-inch. Sean deleted it with a small sheet of 20-gauge sheet metal and then turned his attention to working on the engine bay and tubs, along with handling a bit of rust fixing on the corners of the front fenders.
The Corroded Body Mount Solution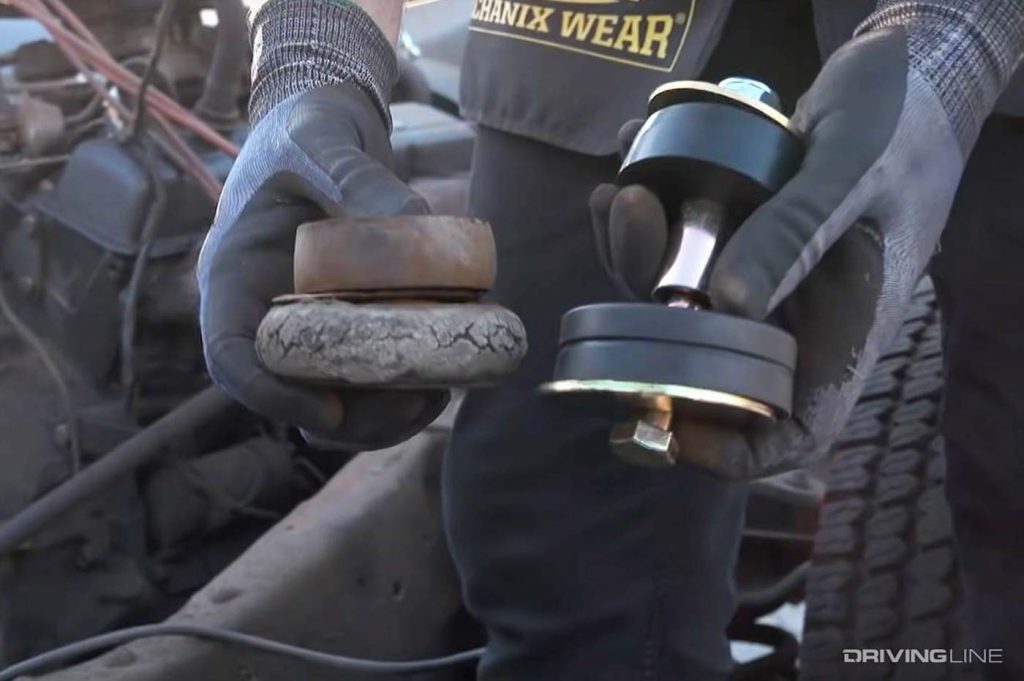 Speaking of rust, deterioration and general automotive causes of cancer, check out what the C20's 55-year-old body mount looked like! Now take a look at its replacement (right). Energy Suspension's cab and body mounts employ the company's specially formulated Hyper-Flex polyurethane, a structural makeup that will hold up against the elements as well as provide a smooth ride. Of course, Energy's mounts will also solve any sagging body line issues.
Read the original story here.