ToyHauler
December 2003
A behind-the-scenes look at Banks Engineering
Gale Banks Engineering is the premier manufacturer of aftermarket gas and diesel performance products for pickups, sport utilities and motorhomes.
When you hear the name Gale Banks, the first thing you probably think is turbochargers.
It's true that he has been tinkering around with turbos since before a lot of us were born. In fact, Gale Banks has been trying to pull more horsepower out of ANY kind of engine he could get his hands on since a very young age. He started out by souping up a 1931 Model A Ford, taking it from a mere 40HP to 104HP! When someone hired him to build his first performance engine, he delivered it and was instantly hooked on the feeling of having someone want what he designed. This happened when he was the ripe old age of 16. The fact that he also loved to try to make something go as fast as it possibly could helped keep the fuel on his fire to develop new automotive performance systems. This would be the right mix of ingredients to start his own company, Gale Banks Engineering.
The word "engineering" is very important here because Banks is not just reselling someone else's products. They have full time in-house engineers and technicians, performing their own research and development on every different type of performance option you can imagine. They develop heads, chips, and exhaust systems just to name a few. Their dyno rooms would impress the guys at NASA. Testing of their consumer vehicles includes water tanks mounted in the back of the vehicle to simulate the real life weight people will be hauling, with computers monitoring every system on the test vehicle. The projects include muscle cars, tubular-framed race cars with quad (that's four!) turbos, land-speed cars like the 222 mph Dodge Dakota that's street legal and they even have some secret stuff for the military that we can't tell you about. (They said they'd have to kill us!)
Gale Banks Engineering occupies almost an entire block in Southern California, with more property down the street waiting to have new high-tech test facilities built. They employ 200+ people and have been in business since 1958.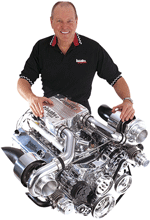 Over the years, Banks has been known for developing complete systems to improve the performance of many different vehicles. Now, they offer these different components individually. If you only need a chip, they have their new "Six-Gun", with 6 adjustment selections that you can use on the fly. If you're only in the market for an exhaust brake, or maybe a new turbo, they can fill your needs as well. Of course, if you're looking for the whole package, they have you covered there too! After touring the facilities it was very clear that these guys are serious about developing performance products.
At ToyHauler Magazine™ we recommend you check out all of your options, and if you're looking for high tech performance products, give the folks at Banks a call. They will give you all the specs on their products and how they can help you achieve the results you're looking for.