Diesel World
June 2012
Bolt-On Power Upgrades for the Chevy/GMC Duramax LB7
Most of us know that internal combustion engines are fancy air pumps and that the trick to getting more power from them is to get more air in and out of them. Just as with old-school hotrodders, installing a free-flow exhaust system and intake will go a long way toward helping airflow in and out of the engine.
However, we wanted to do more than just a typical intake and exhaust article, so we decided to improve the entire airflow path all at once on our 350,000-plus-mile 2001 Chevy LB7 Duramax truck.
We opted to install the Banks Power Big Hoss Bundle that includes a Ram-Air intake system, Techni-Cooler intercooler and boost tubes, Monster exhaust system, BigHead wastegate actuator and Six-Gun tuner with Banks iQ display/controller to replace the well worn, but still functional stock components. Additionally, we contacted our friends at Fleece Performance Engineering to get one of their drop-in LB7 Cheetah turbochargers with a custom 63mm billet compressor wheel and high-flow inconel turbine wheel. Then, to finish things off, we ordered an LB7 downpipe from Pro Fab Performance to replace the restrictive factory downpipe and hand the exhaust gasses off to the new, 4-inch diameter exhaust system.
To read the rest of the story including step-by-step installation photos, click below…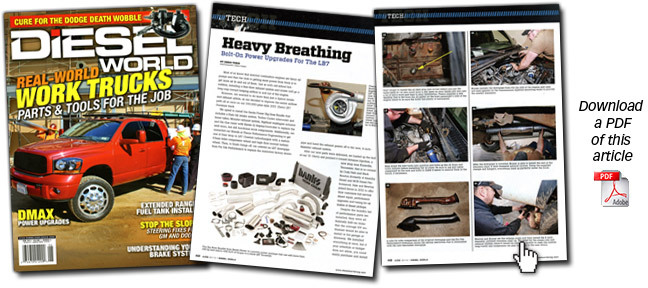 Be sure to visit the Diesel World website!