Gale Banks brings new diesels to military expo
Autoweek
July 2012
Banks brought two turbocharged diesel engines to the IDGA expo and one kit designed to make military-grade Humvees safer and more livable. When most of us think of Gale Banks, we think of diesel engines, big honkin' trucks and tuning boxes that make pickups perform like slingshot dragsters. What you might not know is that Banks and the U.S. military have been working together since the 1970s.
On July 11 and 12, the military-supply industry descended on Detroit's Cobo Hall for the Institute for Defense and Government Advancement Military Expo. The event featured hundreds of companies showing off vehicles, armor and electronics for wartime activities. In addition to Banks, other manufacturers you might have heard of included Wilwood, Torvec and ZF.
Banks brought two turbocharged diesel engines to the party and one kit designed to make military-grade Humvees safer and more livable.
The Sidewinder kit gives the surprisingly anemic base Hummer engine a boost of 65 hp and 110 lb-ft of torque as measured at the wheels. The output of the stock 6.5-liter V8 is 113 hp and 219 lb-ft of torque. The kit increases power to 178 hp while torque grows to 329 lb-ft. It adds a minimal amount of weight and comes with an exhaust brake that reduces the Hummer's 60-to-0-mph stopping distance from more than 300 feet to just 243 feet, according to Banks.
The Banks 866T diesel engine, which was designed to power everything from personnel carriers to tanks, uses 6.6 liters of displacement and a turbocharger to produce power figures in the range of 275 hp to 575 hp, and 600 lb-ft to 900 lb-ft of torque. Banks says power can go even higher with additional modifications.
For us peaceniks, the most important reveal of the day was Banks' 3.0-liter V6 diesel engine (see below), which is rumored to be slated for duty in the 2014 Jeep Grand Cherokee. This compact wonder will pack 268 hp and 421 lb-ft of torque in its highest state of tune, and it will weigh in at less than 500 pounds. Banks worked with Italy's VM Motori on the project. That company provides the block, heads, internals and a few other bits and pieces. The firm also offers a specific attitude on building engines.
"They have a high-performance mindset," Banks said, "and that's what we wanted with this motor."
VM Motori is located in Cento, Italy, not far from the factories of Ferrari, Lamborghini and Ducati. The company has been working with Chrysler since 1991, when it designed an engine for the Town & Country minivan. When Banks found out about VM, he quickly ordered a few engines to tinker with.
Now, with the partnership in place, those engines-marketed under the Gale Banks moniker-can be sold to customers with Jeeps or used in military vehicles and other applications. The engine is highly customizable, with a number of possible locations for the oil sump and mounting points. Banks says he's putting one in his own 2006 Wrangler and says other Jeep enthusiasts are excited to get their hands on the new engine.
Banks is just a car guy like us. He has a passion for speed, engineering and improving anything he puts his hands on. The next obstacle he's tackling is a run up Pikes Peak, followed by a world land-speed-record attempt.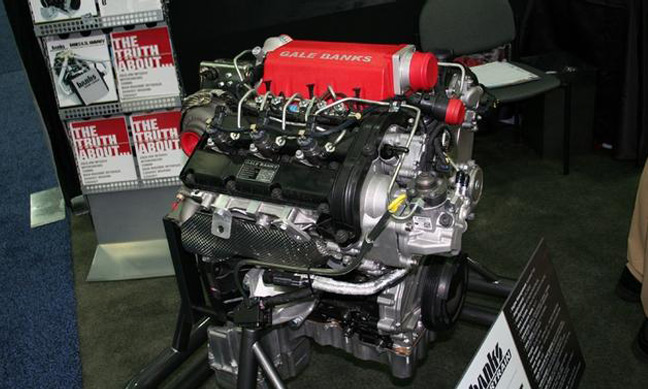 Shown above: The Gale Banks 630T displayed at the IDGA military expo. The engine is a 268 hp V-6 diesel that's ready to change the industry.
---
Download spec sheets for the 630T and the 866T engines.
---
Get more car news, reviews and opinion every day: Sign up to have the Autoweek Daily Drive delivered right to your inbox.
Read more stories by Jake Lingeman »