Banks Sidewinder: The World's Fastest Pickup!
PickupTruck.com
February 2003
Gale Banks Engineering's Project Sidewinder is the fastest pickup truck on the planet. And it's a diesel!
Don't tread on this snake. Gale Banks Engineering's Project Sidewinder is the fastest pickup truck on the planet. And it's a diesel!
Sidewinders are well known for their unique form of locomotion. These venomous predators travel quickly and efficiently over the loose surfaces of the desert southwest's flatlands across a range that extends from California to Nevada and down through Arizona into Mexico. But there's one very special sidewinder that has found a way to thrive in Utah. Its habitat is the salt flats of Bonneville where it's been clocked moving at speeds in excess of 200 mph! It doesn't live on kangaroo rats or lizards, it thrives on diesel fuel. There isn't a serpent on Earth that's tougher than Banks Engineering's Project Sidewinder, the fastest pickup truck in the world.
Banks Engineering was started in the late fifties by legendary racer and powertrain engineer Gale Banks. The Azusa, California based company has made it reputation as a premier manufacturer of power-enhancement products for gasoline and diesel trucks by building race proven drivetrain components and record-breaking vehicles.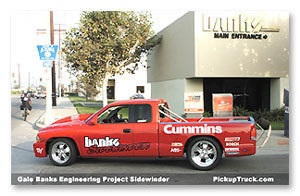 In 1990 Banks Engineering helped GMC Truck Motorsports set a world land-speed record in the Syclone LSR at 204-mph in the flying mile. Banks was responsible for boring out the Syclone's naturally aspirated gasoline engine from 4.3 to 5.0-liters, making it capable of producing nearly 550 horsepower and 412 lb-ft of torque. The Syclone SLR even hit 210-mph during one trial but was unable to repeat at the higher number in two back-to-back, opposite direction runs to officially set the record.
For over a decade the Syclone and Bank's record would stand until Ford Motor Company broke the record with its Rocket Ranger in 2001. The Ranger ran the flying mile at the Bonneville Salt Flats at 205-mph with a nearly 800 horsepower Winston Cup-style powerplant engineered by Roush Industries.
Gale Banks doesn't like to lose. In response to the capture of the land speed record by Ford and Roush, Banks Engineering spent well over a $1 million dollars in time and money to bring the title back home. The 210-mph mark, which was narrowly missed back in 1990, became Gale Banks' holy grail in his quest to take a pickup faster than any pickup had gone before. And not only would the truck break the record, Banks would do it in cooperation with Cummins engines using a turbo diesel to dispel the myth that diesel engine are underpowered oil burners not capable of serious performance.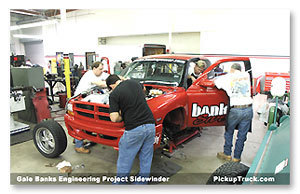 The truck chosen for the attempt was a Dodge Dakota. According to Richard Shahoian, marketing manager at Banks Engineering, "We wanted to use a sport truck and the Dakota offered the aerodynamics we were looking for. We also wanted to work with Cummins to make a statement that diesel engines are the future and this is how we do our R&D."
The Dakota was extensively modified. Cummins supplied a 2003 5.9-liter turbo diesel I6 originally rated at 393-hp but later dyno tested after the Banks engineering work at 735 hp and more than 1300 ft.-lb. of torque! Shahoian said, "In order to accommodate the straight six the Dakota's firewall was moved back about 18-inches." A variable geometry turbocharger (VGT) was used for maximum power during Bonneville speed record runs. The variable geometry of the turbo allows rapid changes in boost pressure virtually eliminating turbo lag and improving power, fuel economy and noise levels. A water tank in the bed cools the turbocharger's intercooler and helps balance weight at 55% up front and 45% in the rear. New Venture Gear kicked in a 6-speed manual transmission taken from a Dodge Ram and Inland Empire Driveline supplied a 4-inch aluminum, 1ž4-inch thick custom driveshaft similar to those built for motorhomes to handle all of the torque. Off-the-shelf Speedway tires with special belts are rated at 300-mph.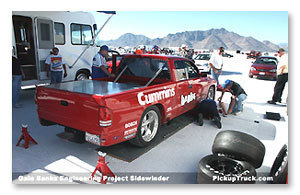 Project Sidewinder wasn't ready until Thursday October 16th, 2001 at midnight. The World's Finals at Bonneville had started earlier Wednesday morning. Still 700 miles away from the action in Utah, the race team simply put on stock wheels and fuel injectors, hooked up a trailer of spare parts and race gear and drove to the Salt Flats. Yes, the Sidewinder is 100% "streetable", according to Shahoian. By Thursday afternoon the team arrived to prepare for their first licensing run Friday morning.
Friday morning Project Sidewinder driver Don Alexander strapped himself in and made a first run of 172-mph. Alexander's second run hit 192-mph for a combined average of 182-mph, good enough to set new land speed records for a diesel pickup but still quite a bit shy of setting a new record.
Sheldon Tackett, the crew chief for the Sidewinder, said the truck handled beautifully at speed. "Up past 180-mph, wheel slip goes away from downforce aerodynamics."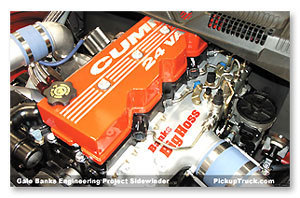 Saturday morning, after reviewing the Sidewinder's on-board data acquisition information from Friday, tuning adjustments were made for additional qualifying runs. On the first two runs Alexander went 216-mph and returned at 218-mph to improve the record to 217-mph, ending the Ranger's hold on the title and beating Banks Engineering's 1990 Syclone top speed. On the third qualifying run the official timing clocks malfunctioned, but they did record an exit speed at the end of the course of 220-mph. The clocks did work properly on the fourth qualifying run, recording a measured mile at 217-mph and an exit speed of 222-mph!
Sunday morning, the Banks crew prepared the Sidewinder for another run. Part way through that run, the engine's massive torque overwhelmed the rearend ring and pinion gear set, actually twisting off the pinion gear part-way through the run. Even with the gear failure, the Cummins-powered Dakota still coasted through for a 209 MPH clocking. When averaged with the 217 MPH speed from Saturday, another land speed record of 213.583-mph was set. These records firmly established the Sidewinder as the world's fastest gasoline or diesel pickup.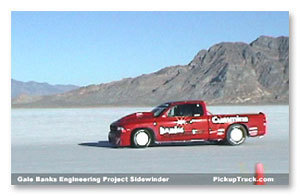 Speed isn't the Sidewinder's only great attribute. With a diesel engine for a heart, the Sidewinder also gets great gas mileage. In recent tests running 70-mph over a 120-mile loop, the Sidewinder achieved a fuel economy of 21.24-mpg! Street injectors and a street computer were used to achieve these results.
Banks and Cummins aren't through yet. Plans are already being made to return to Bonneville in August with a beefier rear gear set. In the meantime, Project Sidewinder will be tested on the drag strip, on road race courses, and on the toughest test track of all, the street.
This is one snake you definitely don't want to tread on.