Off-Road.com
October 2003
Jeep TJ Wrangler Gale Banks Engineering "Stinger" Cat-Back System
Over the past few years Banks has earned a reputation in the truck world for making world class products. The Jeep market had been long awaiting a Banks Jeep product to hit the shelves for some time. The first of many to come is the "Stinger" cat-back system. The "Stinger" comes with everything a Jeeper could need to get a nice deep toned sound with a boost in power to boot!
As I pulled the components from the box, I was immediately impressed with the Stinger's high quality parts. The Muffler is a stainless steel straight through design. The stainless steel tailpipe is mandrel bent and of larger diameter than that of the factory or of many aftermarket tail pipes for TJs at a massive 2.5″ diameter. The tailpipe already has the hangers pre welded on as well for a quick and easy install. Finally, the included polished stainless steel tip is a nice added touch that many other aftermarket companies don't include, but should. You can tell that Banks has made every effort to make this kit of parts which will last, and perform for years to come
Install
Installing a muffler system like this on a Jeep TJ couldn't be easier with these provided clamps. Certain models of the Jeep TJ's (00-03) have a set up where the muffler bolts onto the catalytic converter. My TJ however is of a second type (97-99) where you will need a clamp to attach the muffler to the catalytic converter. Its pretty straight forward but the instructions are very clear. Having done these types of installs before, it only takes about 30-45 minutes. You just unbolt off the stock muffler slide the new one on and clamp it down. Take a hammer and remove the stock tail pipe from its hangers and put your new piece in place and attach it to the factory hangers. Make sure the tail pipe is in the proper place to clear your suspension parts. Attach your new polished tip and fire up the Jeep to bask in the new rumble. Probably one of the easiest mods you can do to your Jeep's motor in such a short time.
With that said. Being a rockcrawler, my exhaust system sees the occasional rock bashing near the tip which can loosen up clamps pretty quick. I prefer to weld in the muffler and tail pipe. I even suggest, if you use the provided clamps, to tac weld the parts together to prevent any rattles. A kit like this one deserves the best install possible. Unless you're personally familiar with welding stainless steel however, you may wish to get the welding done by a professional though. Welding on tail pipes is a little different than what you may be used to. If you can't get too hot, you'll burn through, and you can't have any holes. Holes lead to leaks of the exhaust in areas you might not want and depending on a leaks placement, it can have a negative effect on the performance. I took my TJ to a local race shop and had them welded up the new Banks kit. Even these professionals were impressed with the quality of the new Banks system. It installed easy, the bends for the tail pipe were in just the right place, and the pre welded hangers were dead on as well.
Testing
After getting everything all welded up and cooled off, we fired up the TJ to hear the nice deep mellow tone. Having owned several different mufflers myself, I can say that this is the nicest sounding of all of them. Some are too loud, some way too soft and almost of factory tone. This one is a deep tone when you're on the gas, but nice and mellow at idle.
Much of the other lesser mufflers I had on the TJ before really only made noise. None actually gave me a performance difference which could be felt. With the Banks kit however you definitely feel more power, particularly in the low end. I'm certain that if you're stepping up from a factory system you'll see a very noticeable power gain. Without dyno testing the TJ, I couldn't be certain just how much more torque or horsepower was gained, but there was a noticeable gain. Banks test reports have shown that when the Stinger is used with their new Torque Tube header system, you'll see a gain of at least 25 horsepower, so that should give you an idea. The Factory Jeep 4.0L like mine produces 181hp. If the Banks products were the only additions you did to the motor, you'd be at 206hp. Thats definitely a noticeable gain.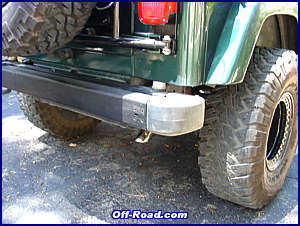 Where I really noticed the extra power was during my daily commute up a highway that climbs from about 2500 feet to 6500 feet elevation. As you can expect, many areas of the highway are of a fair incline. Coming up the mountain before, I noticed I was generally in 3rd gear, and only in 4th for a very little amount of the time as I just didn't have the torque to accelerate in that gear. Now, with the Banks kit in there, I seam to have just enough more torque to pull up the road in 4th! Its everything I imagined it could be! This not only makes driving this about 25 miles of highway much more enjoyable for me, but puts less stress on the motor and drivetrain. Between the performance advantages, and the deep "baja" truck tone, I've been pretty impressed.
Most Mufflers seem to require about two weeks to "break in." Some mufflers once broken in are disappointingly quieter, and some are substantially louder than when you installed them. The Banks Stinger system seems to get just a little louder and deeper after it breaks in. You get just a little more of a rumble at idle and just a little more tone when accelerating than you had the day the system was installed. Its nice, and I can say, now that its all broken in, this is the last exhaust the TJ's ever going to need. I've taken some videos of the Jeep for you to actually hear how it sounds for yourself! Hopefully the camera gives a fair idea of how this kit sounds. The Microphone on the camera isn't the best for this though.
MPEG Videos of Jeep in Action.
WARNING: Not for readers on dialup. These are over 1 MB each.
Video
As mentioned earlier in the article, Banks also produces a set of headers called "Torque Tubes" for the TJ Wrangler. I think with the Banks reputation, and the quality of the "Stinger" system I see on my rig, these "Torque Tubes" will definitely live up to their name! We here at Off-Road.com can't wait to see what Banks comes up with next!