Automotive aftermarket legend Gale Banks revs up Army's Humvee
Los Angeles Times
April 2013
Banks is using his expertise in making fast cars and trucks even faster to improve the underpowered Humvee's performance.
For more than 50 years, Gale Banks has tweaked fast cars and trucks to make them even faster.
Banks has become a legend among the aftermarket speed crowd, having set land-speed records and built what was once the world's fastest passenger car.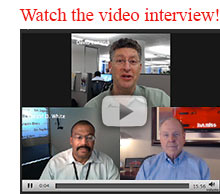 Perhaps that's why it might seem odd that the California speed merchant – founder and president of Gale Banks Engineering of Azusa – is vying for contracts to improve the performance of a vehicle that is about as quick and nimble as a rolling bank vault.
The U.S. Army's HMMWV, more commonly known as the Humvee, is such a heavyweight that you will hear – and feel – one approaching well before you see it. And that can be a problem for the soldiers it is designed to transport and protect.
"To escape, to evade, to get into action, you don't want to come slowly," said Banks, whose son is a former Army medic who served in Iraq. "The quicker you get there, the safer you will be."
There are more California companies in the $30-billion aftermarket automotive industry than in any other state. These are companies that make products that improve the speed, quickness, handling and braking of performance cars and trucks.
But that isn't all that they do. Businesses and even the U.S. military will frequently call upon these companies to help solve some major problems with their car and truck fleets. Some are looking to improve fuel efficiency. Others need help in reducing emissions. Increasing durability and dependability is sometimes the goal.
That happens more often than some people might think, said Peter MacGillivray, vice president for events and communications for the more than 6,500 member companies of the Specialty Equipment Market Assn.
"It's not unusual for SEMA companies to partner with other businesses to help fulfill a specific need or address a particular problem," MacGillivray. "That's actually their sweet spot."
The Humvee is one example.
It's a vehicle that often weighed between 7,500 and 10,500 pounds before all of the "uparmoring," as the military refers to it, needed to meet new challenges in Afghanistan and Iraq.
With much heavier armor, heavier weaponry, additional electronics and more, a Humvee can weigh upward of 7 tons. One weighed more than 17,000 pounds, Banks said.
"It was as if they had taken a Humvee and parked it on top of another one," he said.
But the vehicles still have the same 190-horsepower engine as original equipment, an engine that Banks described as "underwhelming at best," even before thousands of pounds were added to the bulk it had to transport.
Banks, now 70 and showing no interest in slowing down, has a lot of expertise to bring.
His father walked a beat as a Los Angeles Police Department officer, but had come home from World War II suffused with knowledge of how to keep just about any kind of ground vehicle in good repair. It was know-how, and a way to approach business, that he quickly passed on to his son.
"He'd say, 'Lie to someone about what something does and he'll be angry enough to tell 100 people. Tell him the truth and he'll only be happy enough to tell 10 people, but those are 10 who might become customers,'" Banks said.
His customers include big automakers and individual motorists who say that Banks' products have made their long drives easier and more economical.
To help with the problems of the Humvee's engine stalling in the high elevations of Afghanistan's formidable mountains, Banks said he has been able to use the experience gained from working on cars and trucks with engines designed to meet the challenges of the nation's second-oldest race, the Pikes Peak International Hill Climb in Colorado.
That's a 12.42-mile, 156-turn race uphill that ends at the peak's 14,110-foot summit. (Click here to read more about Gale's adventures at Pikes Peak.)
Banks said it isn't necessary to replace the Humvee engine, but bringing modern technology to it is vital.
For "significantly increased power, high-altitude capability and improved fuel efficiency," one of the solutions Banks has come up with uses his Sidewinder turbocharger system. The Sidewinder turbo adds 65 horsepower, Banks said.
He also replaced the engine's intake manifold, which is the part that carries air to the engine's cylinders. Banks also added a better exhaust system and improved the braking performance.
"We cut the zero to 60 miles per hour performance in half," Banks said of the performance changes. "We doubled the uphill climb speed."
"It's always about the challenge. What's next has always been what has interested me," he said. "But that is the Southern California gearhead mentality for you."
---
Be sure to visit the Los Angeles Times website »