LokJaw: Powertrain Control Systems
To shift gear on our Allison 6-speed transmission, we've partnered with Powertrain Control Solutions (PCS). PCS offers a broad line of transmission control modules, paddle shifters, and more for the aftermarket. The paddle shifters and push button shifters are an excellent addition to hot rods, custom trucks, or performance street cars. And best of all, PCS electronics are designed and manufactured by PCS in the U.S.A.
Polished 5/6-Bolt Paddle Shifter Kit w/Unterminated Harness
Part No. A-PS2052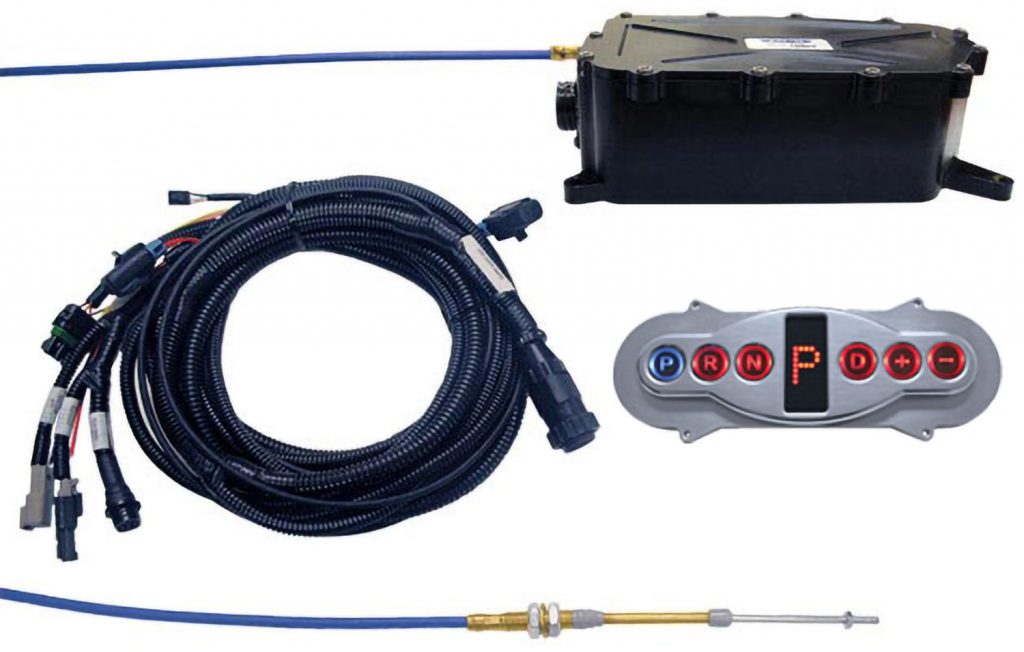 The PCS Paddle Shifter provides upshift and downshift commands to a PCS transmission controller, a PCS GSM push-button shifter, or a GM mechatronic transmission such as the 6L80. The paddle shifter is available for either 5/6-bolt or 9-bolt steering columns. The paddle shifter communicates wirelessly to a receiver module that interfaces the CAN network. The wireless communication drastically simplifies the wiring, requiring only the horn wire to be used to power the paddle shifter. The paddles were precisely engineered to provide a positive detent feel the moment the switch is activated to eliminate any guessing when the transmission was commanded to shift.
Gear Select Module Kit w/Polished Inline Horizontal Remote Configured for PCS CAN
Part No. A-GSM5013

The GSM Push Button Shifter is an electronically controlled shifter that replaces the shift lever and offers precise, split-second shifting capability with the push of a button. The GSM was designed and is well suited for a variety of markets including automotive, military, and agricultural, and works with nearly any automatic transmission.
Its slim touch pad control module and compact, sealed actuator give you virtually unlimited mounting options for tight spaces and grueling environments. The GSM control module can be surface or flush-mounted and is small enough to fit consoles, dashes, door panels, or even armrests. An easy-to-read display shows the vehicle's current gear and each button is recessed to avoid inadvertent touches and brightly backlit for all environments.
The GSM monitors vehicle speed and brake switch status to ensure the vehicle is slowed to a safe speed and the brake is pressed to prevent an inadvertent shift in or out of Park, or into Reverse while moving forward. The GSM has built-in contacts for neutral safety for simple wiring to the start circuit and reverse lights can be controlled from the GSM's reverse circuit contacts.
Installation kits are available for most common transmissions and should be ordered with your GSM. An electronic vehicle speed signal is required and mechanical to electric speed signal generators are available for GM and Ford cable-driven speedometers.
Visit powertraincontrolsolutions.com