SEMA 2008: Banks New Dragster Revealed
Banks Top Diesel Dragster Wows SEMA Show Crowds!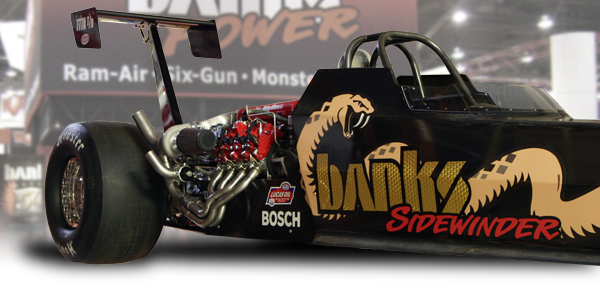 UPDATE: Watch the "first fire" and Famoso Raceway videos!
Las Vegas, Nevada, November 5, 2008 – – Bristling with its convoluted stainless steel exhaust headers and buttressed with Banks Engineering's signature twin-turbochargers, the new Banks Sidewinder Top Diesel Dragster was presented to the assembled press this morning in the central hall of the Las Vegas Convention Center at the 42nd annual SEMA Show.
Watch streetfire.net's coverage of the action!
Nearly twenty-eight feet long, the tapering, all-out drag racing machine, replete with an artist's sketch of a Southwestern desert sidewinder running fully twenty feet down both sides, looked totally menacing just sitting quietly on its haunches in the Banks Power exhibit.
This machine was designed and constructed to regularly exceed 200 miles per hour and get to those speeds in less than 1,320 feet from a standing start. If the engineer's calculations are correct, that whole quarter-mile trip should take something like six and a half seconds.
The one word that somehow seems not to fit with all that extreme performance just noted above is: diesel. However, when you link the name Banks with the word diesel the whole world turns upside down and breaking racing records with a highly-efficient, clean, powerful diesel engine becomes the order of the day for the Banks Engineering team.
And that is exactly what this new machine is destined to do. Probe the outer edges of the diesel performance envelope. It is aimed squarely at making less fuel-thirsty, more reliable, and more eco-friendly horsepower than anyone else in the business even dares to dream about.
The reason is simple, high-efficiency research and development. R&D that stresses every component, including the engineers who work on these machines, to squeeze the secrets of speed out of the ensuing struggle.
When the SEMA Show concludes on Friday, this latest weapon in the Banks arsenal will swiftly return to the company's race shop in Azusa, California to be readied for its first test runs on the race track.
And, if function follows form, this machine will carry on with the kind of record-setting performance that the Banks Sidewinder S-10 pickup put out this past year, and then it won't be long until there are more new records in the book under the Banks Power name. Stay Tuned!
See the dragster's construction in the Race Shop!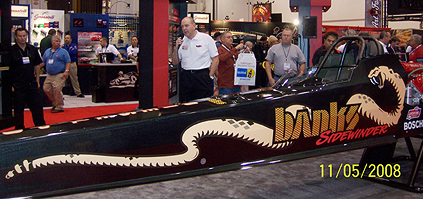 Gale Banks unveils his next racing project to the press.
---
BANKS SIDEWINDER TOP DIESEL DRAGSTER:
A FEW BASIC SPECIFICATIONS…
BANKSPEED TWIN-TURBO DURAMAX V-8:
6.6 LITERS – 402 CUBIC INCHES
1,200+ HORSEPOWER
1,200+ LB-FT TORQUE
BANKS CLEANTUNE™ PERFORMANCE
SPITZER TOP DIESEL DRAGSTER CHASSIS:
CUSTOM CHROMOLY SPACE FRAME
276 IN. WHEELBASE
CARBON FIBER BODY & WINGS
CHASSIS NUMBER: 158-2167-08
TRANSMISSION & CLUTCH:
LIBERTY 5-SPEED (SEQUENTIAL) GEARBOX WITH AIR-SHIFTER
MOLINARI RACING PRODUCTS CLUTCH (PEDAL)
REAR AXLE & CENTER SECTION:
MARK WILLIAMS HIGH-STRENGTH AXLES
9.5 FORD PRO-GEARS
BRAKES:
LAMB DUAL CALIPER STEEL ON COMPOSITE DISCS
TIRES:
FRONT: HOOSIER 22.0X 2.5 X17
REAR: HOOSIER 33.5X 16.0 X15
WHEELS:
FRONT & REAR: SPIN WERKS RACING LIGHT ALLOY
REARS FEATURE DOUBLE BEADLOCKS
ANTICIPATED PERFORMANCE:
200+ MPH QUARTER MILES!
ELAPSED TIMES IN THE SIXES!
ANTICIPATED BENEFITS:
ADVANCED UNDERSTANDING OF EFFICIENT DIESEL POWER TECHNIQUES
LEADING TO SUPERIOR CONSUMER PRODUCTS
MOTIVATED SALES AND MARKETING EFFORTS
ADVERTISING FACT… NOT BRAG
Gale unveils the rail, and gives sneak peaks to what's coming next!
---
This video shows the dragster's first fire on April 17, 2009. 
---
Check out the test runs at Famoso Raceway April 30, 2009