BANKS SIDEWINDER S-10 SETS OFFICIAL NHRDA RECORD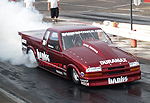 7.87 seconds at 175.45 miles per hour on the Speedworld ¼-mile Drag Strip earns the Banks Sidewinder S-10 diesel drag truck  a new official NHRDA record.
Wittmann, Arizona  (October 4, 2008) – – The Banks Sidewinder S-10 diesel drag truck today posted the first and only sanctioned and backed-up 7-second quarter mile.
Running at the National Hot Rod Diesel Association's "Desert Diesel Truck Nationals" at Speedworld Dragstrip in Wittmann, Arizona, the pickup turned a spectacular 7.87 seconds at 175.45!
Earlier this year at the "Crude Drags 2" event in Bakersfield, California, the Banks S-10 clicked off an official National Association Diesel Motorsports Pro Stock Diesel World Record pass of 8.06 at 162 mph.
Driven by drag racing veteran Wes Anderson, the dark red pickup truck was by far quickest and fastest machine at the NHRDA meet last Saturday at Speedworld, and to date, no other machine has even come close to the 7-second mark.  The S-10 diesel pickup's record-setting run was made with "tire smoke only," exemplifying Banks' unique "CleanTune™" technology.
Many of the fans who were gathered to spectate at the all-diesel race stopped by the pits to get a close-up and personal look at the twin-turbo Duramax-powered racer during the day.  After the event the Banks team opened the pit area to the public and stayed late to answer numerous questions from the spectators.
The Banks race team spent very little time resting on their laurels.  On Monday they were already back at the race shop continuing their work on a new, Spitzer chassis, 276-inch wheelbase, all-out rear-engined dragster which will be seen for the first time at this year's SEMA Show in Las Vegas.  And yeah, this new machine is a Duramax too!