Banks Sidewinder Jeep Turbo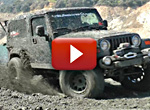 Got a 2005-06 Wrangler? It's pretty cool, right? Well it's time to make it waaaaayyyy more cool with a turbo!
We have officially started shipping our Banks Sidewinder Jeep Turbo systems, so here's a little video showing it in action along with a testimonial from a guy with first-hand experience with the system.
Tons of people having been anxiously waiting for this system for a while now—and we're sorry for the wait—but we didn't want to release anything that wasn't perfect. And now it is. The turbo system promises rock-crushing torque, ridiculous acceleration, and heart-pounding power. It offers gains up to +66hp and +84lb-ft for 2005-06 Wrangler 4.0L.
Do you think you know your off-roading areas? Pay special attention to the maps at the end and see if you can identify all eight notable locations.
Jump over to the Jeep turbo product page for all the features and benefits along with another customer testimonial.
Call and ask us about it, and see what else we have for your vehicle too. (800) 398-2590