Banks Power and Mike Ryan Motorsports take on Pikes Peak
Freightliner Cascadia Race Truck to Debut at Mid-America Trucking Show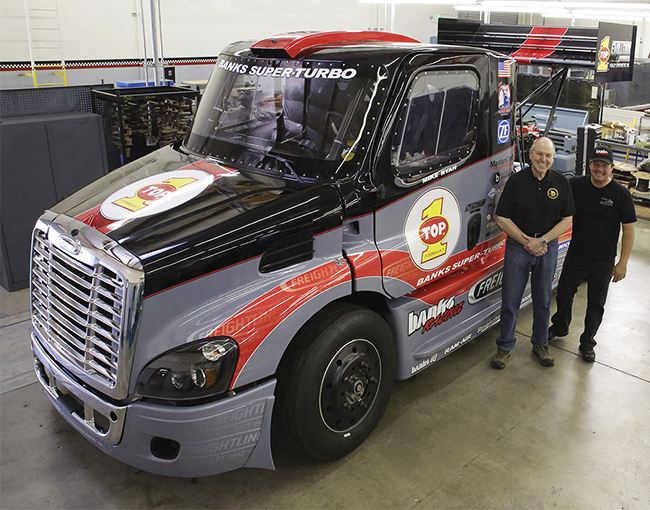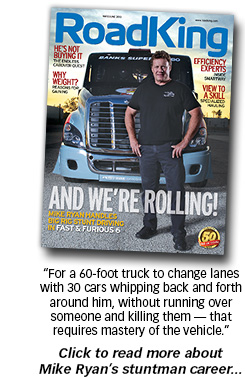 Azusa, California  (March 19, 2013) — Gale Banks and Mike Ryan are two men who know how to set records. This June 30th, at the Pikes Peak Annual Hill Climb, they plan to do just that! In their ongoing motorsports program, Banks Power has partnered with Mike Ryan to add Banks Racing equipment to Ryan's Freightliner Cascadia racer. The Freightliner is debuting at the Mid-America Trucking Show in Louisville, KY, March 21-23. Mike Ryan has raced a Freightliner Class 8, at the famed Pikes Peak Hill Climb, since 1997. The addition of Banks Racing equipment will ensure that Ryan has a good chance at setting a new world record, at this year's 12.4-mile "Race to the Clouds."
"I'm pumped up about this opportunity to partner with Mike on his latest Freightliner race truck," Gale Banks said. "Mike is the master in Class 8 motorsports and I'm proud to run with him. Everyone at Banks believes we can help take Mike's Detroit Diesel powered Freightliner to the next level."
Banks intends to install their Banks Racing; Ram-Air® intake, TechniCooler® intercooler and intercooler spray system, StraightShot™ multistage-multipoint water injection system, Banks iQ Man-Machine Interface (MMI), Banks SpeedBrake™ system, and Monster® exhaust. The crowning touch, according to Banks, will be the addition of their new Banks Super-Turbo, altitude compensating, forced air induction and control system.
Ryan is not only a professional race driver; he has been a stunt driver and stunt coordinator in the film and entertainment industry since 1977. He has worked on over 500 feature films, television shows and commercials, including such hits as "Terminator II" and "Fast & Furious 5 & 6".
"Gale and I have known each other for many years," Ryan said. "I've always been impressed with his engineering expertise and motorsports success. They possess the ability to take the truck to the next level and validate every improvement along the way that few other companies could ever match.  I'm very excited about teaming with him and his company in this year's competition."
Mike Ryan's, Banks enhanced, Detroit Diesel powered Freightliner Cascadia will be seen at various trade shows and drifting events in addition to competing at this year's Pikes Peak Hill Climb.

---
For additional information please visit the Pikes Peak website at www.ppihc.com
Magazine article courtesy Road King