---
Pinch me… I gotta be dreamin' !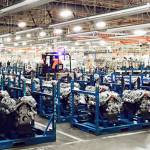 An old and dear friend sent me an email recently. The subject line was, "I am so jealous" followed by, "Gale; you have made the perfect gear head life"! My first thought was, "how the hell did I pull that off"? Well, I think I have turbocharging to thank for that, not to mention my 60 ... Read more about this post
Car guy Heaven…That's where I am!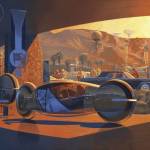 Once a year at Art Center College of Design In Pasadena California they do something so special that even my pal Jay Leno becomes a spectator! It's called, Car Classic and I'm a guest of another pal, Syd Mead, who's future vision caught the attention of the general public world wide with Blade Runner and continues ... Read more about this post
Dateline, 7-1-16 Moraine, Ohio The first day of the rest of my life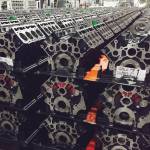 Here's the first days production of the specially machined Banks 866T V8, military engine blocks. This is only one days production, the Duramax plant will be machining these for a week. The first 78 of them made it down the line today as well and are now our Banks spec. military 866T 3/4 engines ready ... Read more about this post
Back Room Electronics – Making Power Banks Style Gale takes us "inside" Banks' North Engineering Department and gives us an overview of our Banks Bullet Tuners… and just what makes them a step above the competition. <div class="videoWrapper"><!– Copy & Pasted from YouTube –> <div class="videoWrapper"><!– Copy &amp; Pasted from YouTube –> <iframe src="https://www.youtube.com/embed/nvkDFZHyM44″ width="560″ height="315″ frameborder="0″ allowfullscreen="allowfullscreen"></iframe></div> Read more about this post
Ram Air Pontiac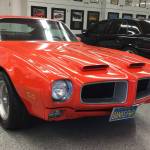 Restored by our son Andrew, after I foolishly pulled the 400″ Poncho and then built an LS 7, BBC to bolt in its place. All was going well until, in an act of unbridled capitalism, I made the Chevy into a marine engine for a boat customer. It seems that I had a runner bottom Sanger ... Read more about this post
Four Decades Defending Our Country
This July, Banks Power celebrates 40 years of designing and providing turbocharged gasoline and diesel engines for military water craft and wheeled vehicles. I'm not supposed to know where they go and what they do. But I do know that some very brave people deploy with them. A few of those, I'm honored to say, ... Read more about this post
Happy Birthday America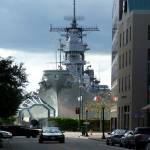 Today America is 240 years old. Here's a collection of Gale's posts that illustrates just how great our country is. Have a Happy Fourth of July everyone! Honey…I'm Home! Is the coffee on? Only Gearheads could come up with an aircraft like this! Go for a ride in a VTOL Harrier! The landing is worth waiting for! I promised ... Read more about this post
Dateline June 29, 2016. Moraine, Ohio – Magic happened today and I got be there…!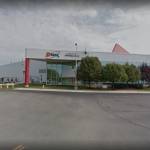 The final special machining operation on the first full production run of Banks 866T base engines is complete! These Dmax folks are something special, I'm humbled by their professionalism and their friendship. July will be a big deal for our Defense Engine Division, Banks Technologies as we start initial production of our Banks 866T engines for ... Read more about this post
Three Little Eco Diesels All In A Row…
Hey everybody, meet the sons of VM Motori. The Jeep Grand Cherokee Eco Diesel in the foreground, Ram 1500 Eco Diesel in the Ford-F100 and The Banks 630T 302 hp, 514 lbft with our 6-Speed Auto, on the right. The Ram block is unique to the truck and is different than the Jeep and our Banks ... Read more about this post
Look Ma! No Turbos – The Hot Rod Project hits the Dyno!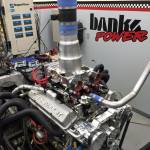 As we prepare for 'First Fire' on our 427″ Twin Turbo Gen 1, SBC, I've decided to also make this a dyno series highlighting a new way to predict your engines power potential…we're going to read MAD, Manifold Air Density on our new iDash Display. As a result we've stripped the turbos and installed a pair ... Read more about this post