THE HEART OF LOKJAW: THE "HOW" AND "WHY" BEHIND BANKS' DECISION TO SUPERCHARGE THE L5P DURAMAX IN ITS '66 CHEVY C20
Driving Line
JULY 16, 2021
Whether or not you've been following Banks' LokJaw project, the build has made waves all across social media the past few months. For those of you who've been asleep at the wheel, the folks at Banks Power purchased a 1966 Chevrolet C20 for $1 (a buck) and unveiled the rusty old ¾-ton Fleetside to the world back in January with the promise of doing something wild with it. Among a long list of plans, they decided it would be powered by a late-model L5P Duramax diesel—and supercharged rather than turbocharged. How's that for out-of-the-box?
In the article below, we're honing in on "why" they decided to go with a supercharger, as well as "how" they plan to make it all work. That means we'll be touching on some of the supporting components that will be vital in making the blown Duramax arrangement happy on the street.
The Why
Why Diesel?
For decades, Banks has been big on diesels, even offering factory-optionable turbo kits on the naturally aspirated GM 6.2L and Ford/IH 6.9L V-8 power plants that were available in the 1980s. Beyond that, the Banks team has set land speed records with a Cummins-powered Dakota, run 7-second quarter-miles in a Duramax-propelled Chevrolet S10 and even campaigned a Duramax-motivated dragster back when diesel drag racing was still in its infancy. The guys at Banks learned long ago that if you can address the common transmission issues and solve a diesel's big-torque traction issues, there is no stopping a properly designed, built and tuned compression-ignition-powered vehicle.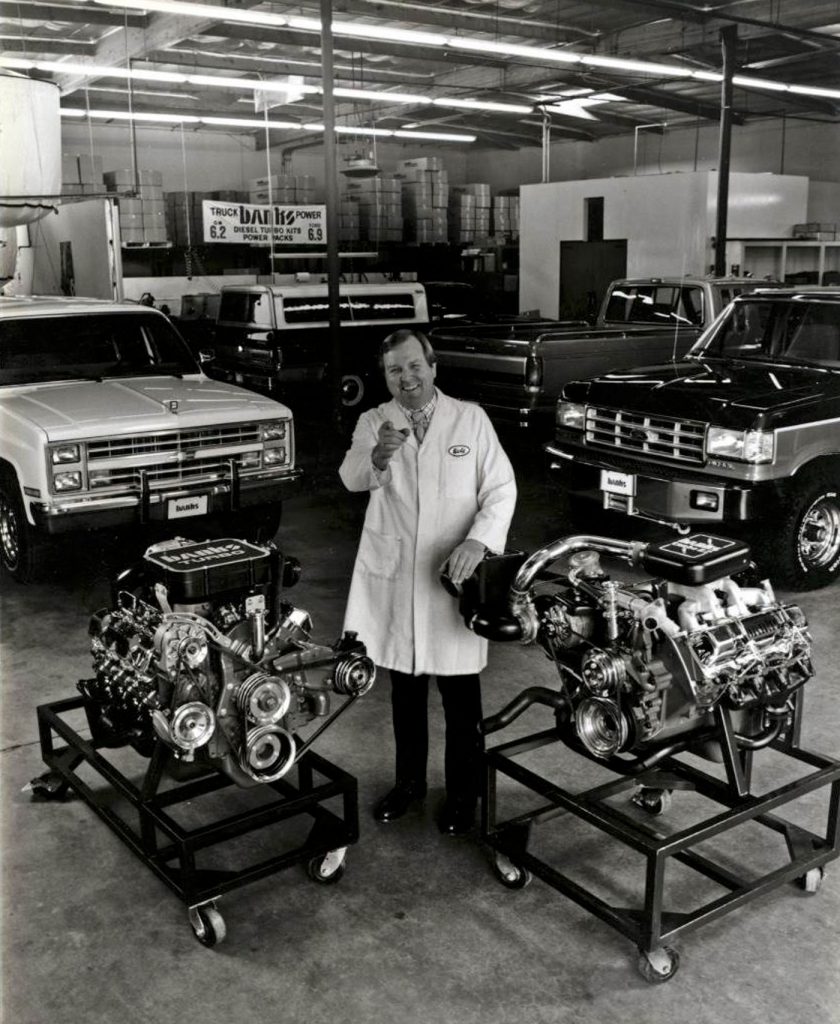 Why Supercharge?
First off, because it's different. In Gale Banks' own words: "Just cause it's sick and wrong." Secondly (and perhaps more importantly), Banks is using project LokJaw to shed some light on the company's coming line of Duramax diesel crate engines. That's right, crate engines. Eventually, you'll be able to buy a supercharged, turbocharged or even a supercharged and turbocharged L5P Duramax-based crate engine from Banks. Available power figures are rumored to be anywhere from 700 hp to north of 1,000 hp. With the '66 C20 being the guinea pig for the road-going side of its engine program, expect Banks' supercharged application to be wholly street-ready by the time it's available for purchase.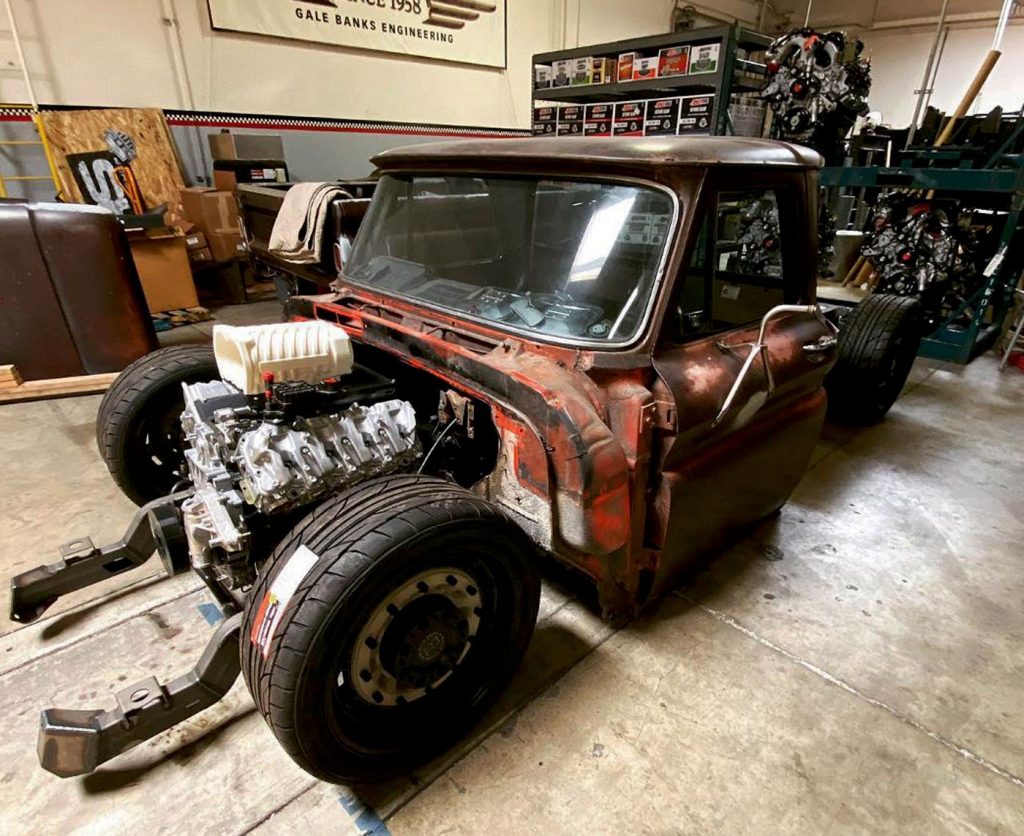 The What
Whipple 3.8L Gen-5 Supercharger
So who got the call for LokJaw's forced induction needs? None other than Whipple Superchargers, and namely for one of the company's new 3.8L Gen-5 units. The twin-screw blower's inlet design was enhanced by computational fluid dynamics, while improved bearings are said to have reduced rotational drag as well as increasing the supercharger's overall service life. And while the 3.8L Gen 5 twin-screw has been a great success in the 5.0L Ford Coyote world, Banks is the first to toy with one on a diesel. Remember, there will be no turbocharger accompanying this specific engine combination—so optimizing the Whipple for a wide operating range destined for the street will be key.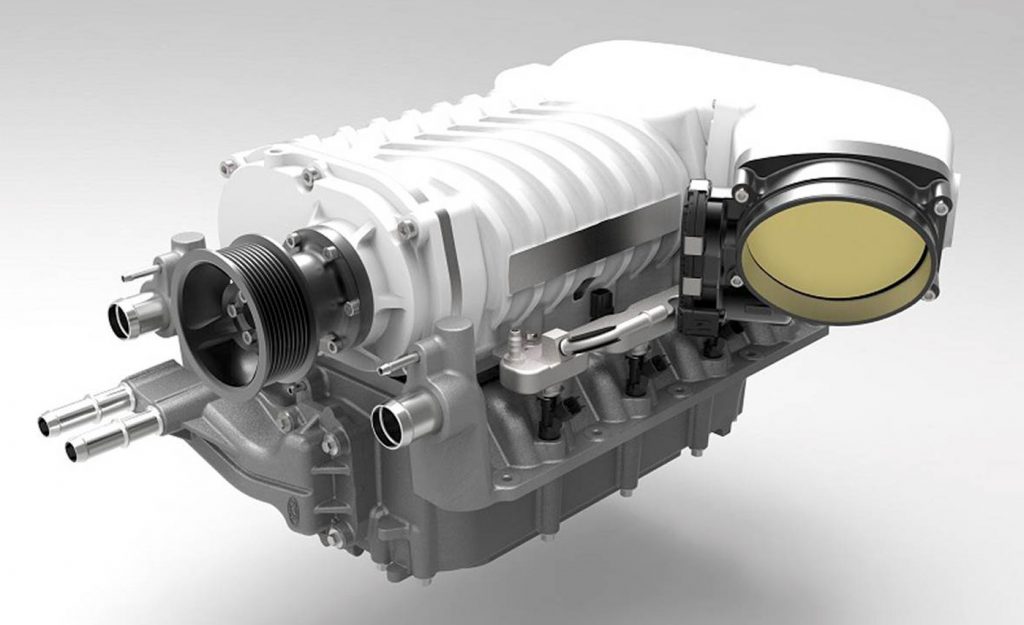 The How
Blower Drive
So how do the guys at Banks plan to drive the Whipple? When you're an engineering firm with endless capabilities, including the capacity to design and produce your own components, it's easy to see how this concoction came about. A one-off, fluid-filled race viscous damper assembly with three different belt planes will be used to drive the twin-screw supercharger. The first plane (closest to the block) is dedicated to the factory 6-rib serpentine belt and will be underdriven. The second plane is reserved for the pump that's employed for the engine's dry sump oil system. The final plane is used to drive the Whipple via a 12-rib, multi-V belt (no cog belt here). The goal is to turn the blower between 18,000 and 20,000 rpm (or at least four times the speed of the crankshaft).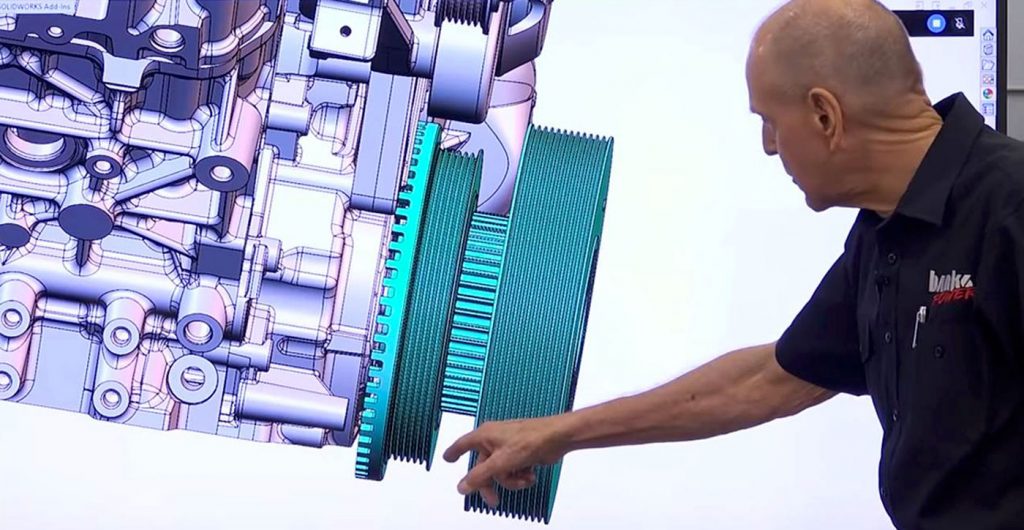 Dry Sump Oil System
Because the plans for LokJaw entail laying frame, there was no way the L5P Duramax oil pan was going to work. So for reasons of clearance, Banks decided on a dry sump system, which comes with the added benefit of ensuring optimum oil pressure is always on tap. As previously mentioned, the three-plane race viscous damper will drive the dry sump oil pump. Due to both the Banks crew being satisfied with its performance capability as well as its size fitting within the 30-inch width limit across the back of the engine, the factory L5P oil cooler will be retained.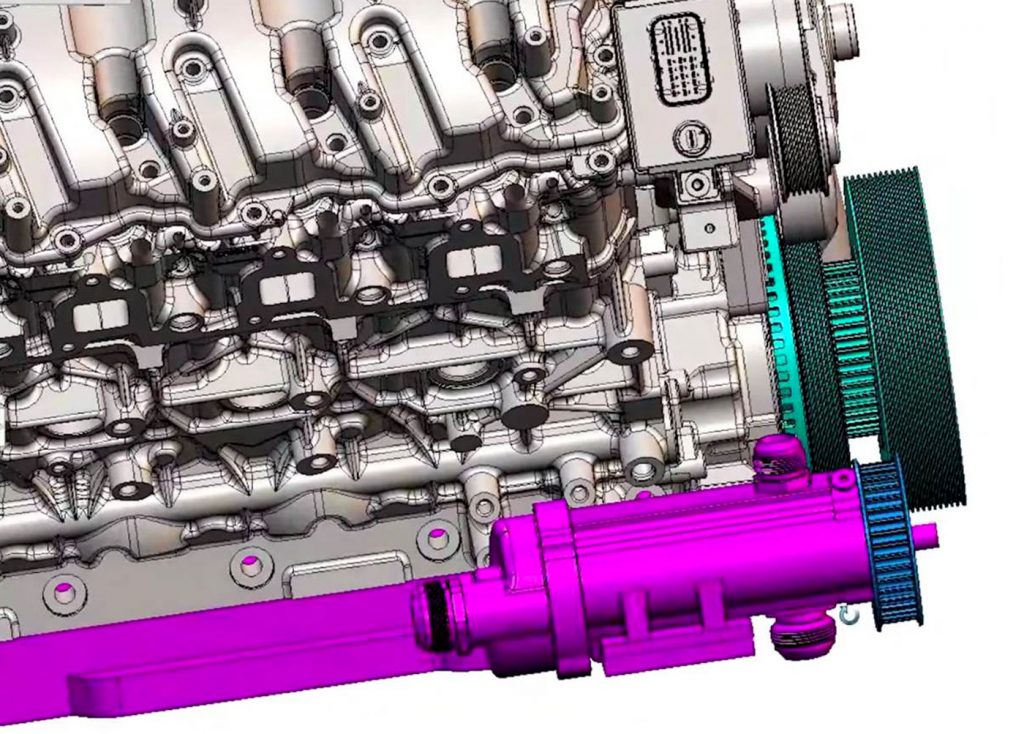 A Camshaft To Complement The Supercharger
With no camshaft profiles available in the diesel aftermarket for supercharged Duramax applications, Banks was alone on an own island, so to speak, in that department. Not to worry, they've spec'd out their own camshafts to move the engine's peak horsepower further up in the rpm range. Both its "400" (.400-inches of lift on the intake and exhaust) and "500" cams (.500-inches of lift on the intake and exhaust) provide tremendously improved high rpm airflow. The L5P roller tappets—a near-spitting image of what you'll find in Chevy LS engines—will be retained, as they're designed to turn (and live) at big rpm.