Diesel Power
December 2010
This time, it's a 1,300HP diesel. Check out this one-of-a-kind engine build that's after one thing: horsepower.
The 454ci big-block gasoline V-8 may be one of the most coveted, recognizable powerplants ever cast by General Motors. Its large displacement and big bore gave it the kind of low-rpm power a small-block owner could only dream of. Back in the '70s and '80s, the 454ci (7.4L) GM big-block separated the men from the boys.
Today, another engine, also built by the General, is changing the diesel enthusiasts' world: the 6.6L (403ci) Duramax. With common-rail direct-injection, aluminum cylinder heads, six head bolts per cylinder, and turbocharging as standard equipment, it's the powerplant of choice for many hot-rodders, drag racers, and sled pullers alike. And—just like in the days of old—the die-hard Duramax fans are after the same thing: horsepower.
When we heard a rumor that the folks at Fleece Performance Engineering were putting together a 454ci (7.4L) Duramax, we had to see it for ourselves. So we headed to its shop in North Salem, Indiana, to get a look at a one-of-a-kind engine built to be used in a 3.0 Class sled pulling rig. If this is any indication of how Fleece's new, big-block, Duramax engine program will operate, the Cummins camp will definitely have its hands full.
Click below to see all the photos and details from the article…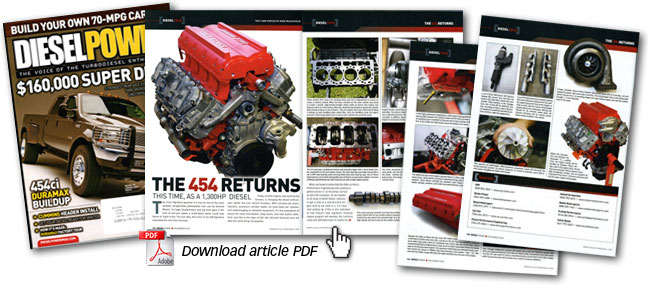 ---
Visit the Diesel Power magazine website »