Diesel World
December 2012
Good Things Come in Small Packages. Banks Powertrain is bringing a V6 diesel engine to market sometime in 2013. Read on to see why that's a good thing…
Banks Powertrain, a division of Banks Engineering, is bringing a V6 diesel engine to market sometime in 2013. This new-to-the-U.S. Motor is a version of the VM Motori 630, DOHC, 60-degree V6 diesel that has been in use in Europe for a few years now. While the VM Motori version, the A630, has been used in Chrysler and Jeep vehicles for the European market, it is not available in the United States yet and can't be used for any conversions or new builds because it is not EPA certified. Industry rumors are that some 2013 vehicles, such as the Grand Cherokee, will get an EPA version of the 630, but their availability for other aftermarket and conversion uses will be strictly limited for the immediate future.
The new Banks massaged 630T version will have certification-and even better, it also makes more power than the Euro version. One would expect no less from Gale Banks Engineering and its powertrain division. Best of all, after the certification is completed, you'll be able to get one to drop into your rig of choice.
The Banks Powertrain 630T will have an AutoMind electronic diesel controller for fuel management and a base power output of 268 hp at 4,000 rpm and 421 lb/ft at 2,000 rpm. This is up from the original VM Motori OE numbers of 240 hp at 3,400 rpm and 400 lb/ft at 2,400 rpm.
To read the rest of this story click here »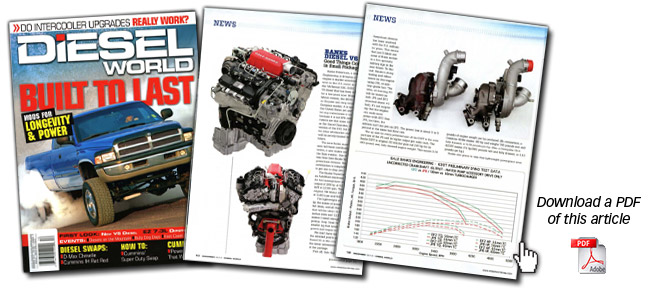 ---
Be sure to check out the Diesel World website »