Off-Road Adventures
November 2011
4 Wheel Parts' 50th Anniversary JK Gets Banks Power Ram-Air
As the 4 Wheel Parts Wholesalers 50th Anniversary Sweepstakes draws to a close, we bring you the last of the installation articles. Banks Power was selected for this final upgrade and we installed one of their Ram-Air systems on the 3.8L Jeep V6.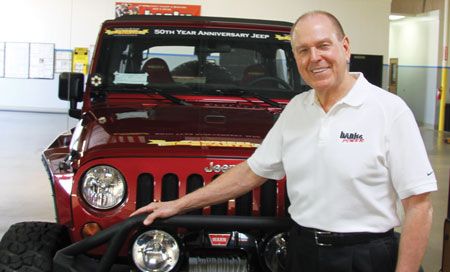 The Banks Ram-Air for the JK outflows the stock air intake by 73% (see chart), and more air means more power and also improved fuel economy. The air flow is one thing that is quantifiable and repeatable in the lab and this is the number that Banks uses to compare the Ram-Air to stock. Customers have reported not only improved power, but also increases in mileage of 15 to 20-percent or more. This however is subjective and not a claim that Banks makes.
Installing a Banks Ram-Air on your Jeep JK Wrangler is simple and can be done in under a half day. Install one and you'll be wondering what took you so long to jump on the power that Banks has to offer. Follow along and see how simple it really is.
NOTE:
The Banks Ram-Air system installed here fits the 2008-11 Jeep JK with the 3.8L V-6. The new 2012 JK has a different engine package and a new Banks Ram-Air will need to be designed for this new Jeep engine. Stay tuned if a 2012 is your Jeep of Choice.
The final upgrade for our 50th Anniversary Sweepstakes Jeep JK is a Banks Power Ram-Air intake system. This fantastic upgrade outflows the stock setup by 73-percent. More air means more power and more power means more fun on and off the pavement.
Gale Banks, President and Founder of Banks Power, has been tinkering with engines since he was 14, when he tweaked the family's '31 Ford Model A to gain and extra 40 hp. Under Gale's direction, the company was the first to turbo charge the early GM Diesel engines. Gale and his company's motto, "Always looking toward the future."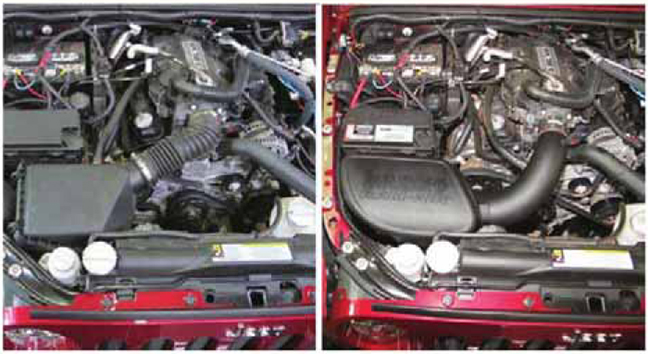 In stock trim (left) the Jeep JK engine compartment is packed tightly. It takes a bit of designing to make a new intake fit cleanly in this tight space, but it takes engineering to get the biggest possible gains from the new Banks system (right).
| | |
| --- | --- |
| 1a. The Banks Ram-Air features a closed top air box. This design keeps the filter cleaner and also improves air flow velocity to the filter and on through to the engine. | |
| 1b. The stock flat-panel air filter is replaced with a Banks conical filter that offers more surface area and better filtration. This filter can also be cleaned and reused. | |
| 2a. The entire stock air intake system is removed and is replaced by the Ram-Air system. Here's the inner fender mounting location. Banks has designed their air filter box to be a simple push in like the original. These three aluminum pins are held in by C-clips and are the secret to this like stock ease of installation system. | |
| 2b. The entire stock air intake system is removed and is replaced by the Ram-Air system. Here's the inner fender mounting location. Banks has designed their air filter box to be a simple push in like the original. These three aluminum pins are held in by C-clips and are the secret to this like stock ease of installation system. | |
| 3. The bottoms of the stock filter housing (left) and the new Banks filter housing. The Banks unit has both a larger front opening to capture more air, but also an extra one on the bottom, too. | |
| 4. The Ram-Air intake requires that the filter be installed into the housing, before the assembly is placed into the Jeep. | |
| 5. The stock IAT sensor is installed into a grommet on the Banks intake tube. Care must be taken when removing this part from the stock intake tube and placing it into the new Banks intake. The tip is fragile and if you damage it, you'll have to get a new one from a Jeep dealer. A little silicone lube on the rubber grommet will help with the install. Take care to not contaminate the sensor tip with the lubricant. | |
| 6. After bench assembling the new intake system, it's a snap to install it, literally. Simply position the Ram-Air over the stock intake mounting grommets and push down until the three pins snap or pop into place. | |
| 7. Once the Banks Ram-Air intake is installed, you will need to reconnect the IAT sensor to the harness plug. Be sure to push down the locking clip. | |
| 8. The Banks Ram-Air for the Jeep JK is 50-state legal. Each system comes with a CARB certification sticker and a warning sticker to tell mechanics to not throw out your reusable filter. Be sure you put these on the Jeep near the intake. The top of the power center worked best in this case. | |


Save this article as a PDF »
---
Be sure to visit the Off-Road Adventures website »