Banks iQ – Features and Benefits and Awesomeness
The Banks iQ was a hot item when it hit the market months ago, and believe it or not it keeps getting better. Don't have one yet? Read on to see what you've been missing. Already a proud owner? Check out the new stuff that is now available to you!

Now available for late-model gas and diesel vehicles, the Banks iQ™ is an award-winning Swiss Army knife™ of automotive electronics. This dashboard PC combines a 5-inch LCD touchscreen display and a Microsoft® operating system to offer mind-blustering features in a single unit:
Read your Microsoft Office® documents.
Optional Banks NAV GPS navigation gives turn-by-turn directions and 7 million points of interest.
A dual-core processor, USB port and Micro-SD card slot make the Banks iQ a multimedia machine: watch movies, view images, listen to music.
Over 50 auxiliary gauges in both simulated analog and digital read-outs. Values are available in both English and metric.
Add up to 155 hp/385 lb-ft of torque through an integrated Banks Power diesel tuner.
Cut downhill speed up to 78% when used with a Banks Power SpeedBrake.
Lithium-ion battery-powered, the rechargeable iQ is totally portable. Its optional external speakers and carrying case make the iQ an ideal mobile-entertainment unit. (Turntable and DJ booth not included.)
This unit "completes" your vehicle, giving you options the automakers don't offer. Downloadable updates and optional iQ hardware keep your vehicle "current" into the future, improving your investment.
MORE ABOUT THE BANKS iQ: FEATURES & BENEFITS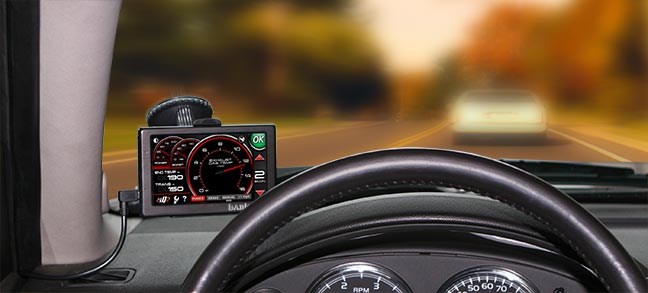 TOUCHSCREEN: Legible Finger-Tip Control
Advanced electronics and touchscreens are nearly synonymous. Smart phones and ATMs use the technology for reliable results. Button-pushing is a thing of the past.
You can actually see iQ information with minimal distraction thanks to Banks' industry-leading 5-inch LED display. A fast refresh rate makes the display quickly legible, allowing your eyes to focus on the road. Compare it to our competitions' squinty screens: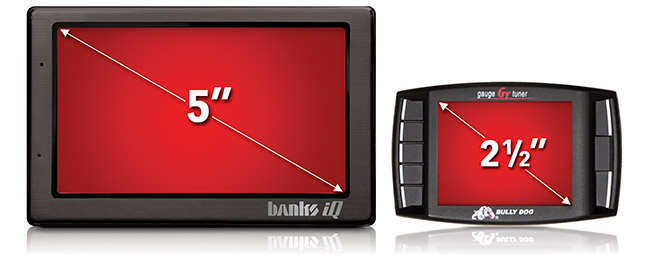 ---
KNOWLEDGE: What's Happening Under The Hood
The iQ goes infinitely beyond virtual gauges. Its 5-inch LCD screen offers at-a-glance monitoring of 51-plus functions (depending on vehicle). Digital and simulated analog displays are available for MPH, RPM, EGT, Boost, Intake Temp, Engine Temp, Trans Temp, and more – in English or Metric units. The driver can also select the display's color. Further, the Banks iQ can also automatically change colors and brightness for optimal day/night legibility.

---
MILEAGE: Trip Cost Calculator
The iQ includes an invaluable Fuel Economy function. This feature shows Instant MPG, Average MPG for a given trip or timespan, calculates cruising range, and displays throttle percentage. Entering a tank's cost per gallon allows the iQ to calculate the actual fuel expense and usage per trip. A log-book feature lets you keep track of multiple trips. This helps determine the most cost-effective route between Points A and B. Engine On time and Average Speed are other displayable values. The cost and Average Speed is especially beneficial to fleet managers and anyone who lets others drive their vehicles. Both English and Metric data is accessible.
This Fuel Economy feature shows you in dollars and cents how adjusting your driving style adds to your wallet – the iQ might even pay for itself over time.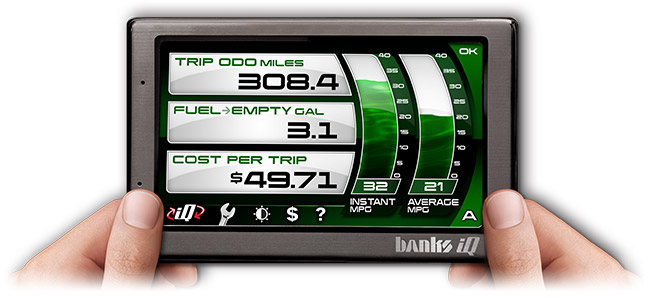 ---
TROUBLESHOOTING: No Wasted Dealership Trips
The Banks iQ deciphers Check Engine lights. Diagnostic Trouble Codes (DTCs) aren't just shown, they're also spelled out – you don't have to look up the code in a service manual or on a website. The iQ also allows you to clear codes.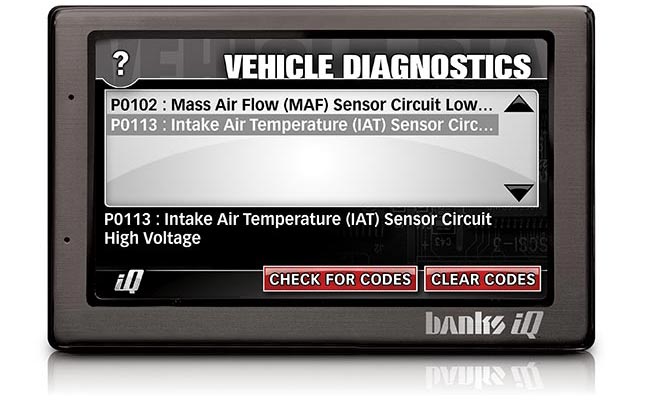 ---
ENTERTAINMENT: Mobile Entertainment, Onboard & On The Go
The Banks iQ is an actual PC that runs the Windows CE operating system. Powered by a dual-core processor, the iQ can play several popular multimedia files.
Audio formats: MP3, WMA, WAV
Video formats: MPEG-1, MPEG-4, AVI, ASF, 3GP, WMV, DivX
Photo formats: JPEG, BMP, PNG
E-Books: TXT, ANSI, Unicode, and UTF-8


The Banks iQ comes with three pre-loaded games: FreeCell, Connect, and the ubiquitous Solitaire. Audio can be played through the iQ's built-in speaker, through headphones connected to the iQ's 3.5mm stereo mini-jack, over the vehicle's sound system, or via optional external speakers.
The Banks iQ's Micro-SD expansion slot accepts up to 8GB cards, giving more than adequate capacity for movies, music, and more!
The rechargeable battery also allows the iQ to double as a mobile-entertainment unit. The optional and highly affordable Banks iQ Travel Case Speaker System lets you take your shows on the road, away from the dashboard. The case protects the iQ and has built-in speakers, which provide surprisingly crisp and undistorted sounds, even at higher volumes. The speakers run up to 15 hours on a pair of AA alkaline batteries. This case includes the built-in speakers as well as a carrying strap and a carabiner clip. The Travel Case Speaker System is also compatible with MP3 players, cell phones, and computers.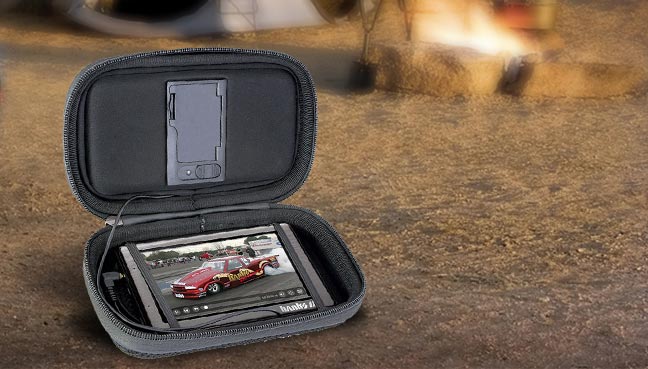 ---
PRODUCTIVITY: Mobile Microsoft Office
As a Windows-based compact PC, the Banks iQ lets you display and manage Microsoft Office documents. Viewable files include Excel, PowerPoint, Word, Word Pad, and Adobe Acrobat (PDF). An integral stylus allows Word Pad documents to be edited on the iQ's virtual keyboard. Because the Banks iQ is self-powered by a rechargeable lithium-ion battery, you can view them in your car or on the way to your next meeting.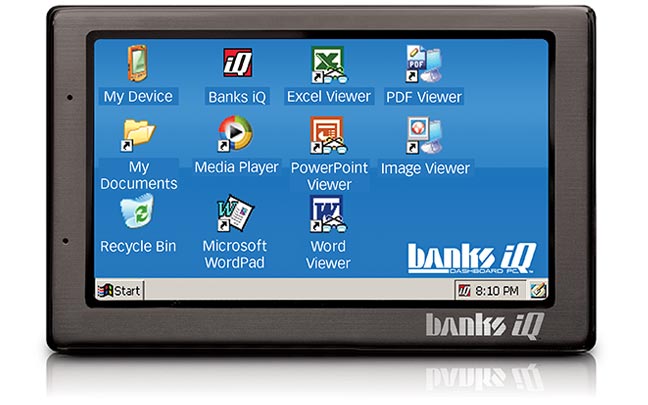 ---
DIRECTIONS: Compass & GPS
The iQ has a built-in antenna and 24-channel GPS module. This feeds data to the iQ's digital-analog compass. Direction is indicated using a virtual compass face. Additional digital values show altitude, distance, speed, longitude/latitude coordinates, satellite transmission strength, and more.
NAV: No Need For OE Or Others
Banks NAV is an optional upgrade for the iQ. This provides turn-by-turn visual and verbal directions for destinations in the U.S. and Canada. The system is pre-programmed with 7 million points of interest, complete with phone numbers.

---
DATALOGGING: Touchscreen Timing Traps
Want to document your performance? The Banks iQ includes timing traps. An NHRA-style Christmas tree start light is easily viewable with peripheral vision, allowing you to focus on the track. The iQ captures and displays 0-60 MPH, 1/8-mile, and 1/4-mile times. Runs can be saved and stored for comparison.

---
REAL SPEED: Recalibrating For Tires & Gears
Trucks often run non-stock tire sizes and aftermarket ring-and-pinion gears. Changing the rubber's rolling diameter and/or gear reduction makes the speedometer inaccurate. Banks iQ uses GPS technology to display accurate road speed, regardless of your combination.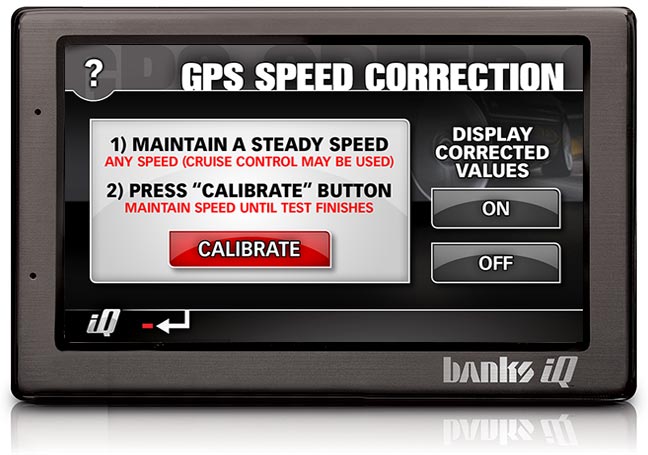 ---
CONTROL: Performance and Safety
While the Banks iQ is a fully capable stand-alone automotive tool in its own right its genius doesn't stop there. By adding an AutoMind® flash-programming module, a Six-Gun® or SpeedLoader® diesel tuner module you can crank up the performance of your vehicle*. To control downhill speeds, especially vital when towing, add the SpeedBrake™ module for enhanced safety. When you combine these modules with Banks iQ's 5″ color touchscreen you can choose power and economy levels, control downhill cruising speeds, adjust braking intensity, and more.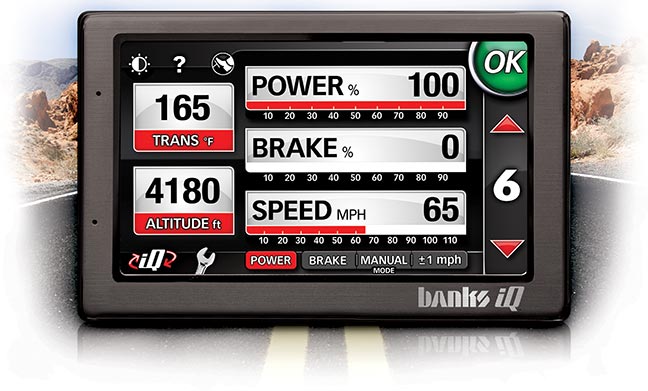 ---
SAFETY: Powertrain Sentry
When bundled with a Banks diesel tuner module, Banks AutoRate® and Banks ActiveSafety® additional features add even more safety and longevity to your vehicle. The ultra-intelligent Banks iQ safeguards your vehicle by letting you set maximum powertrain parameters. If your selected maximums for EGT, Turbo Boost Pressure, Engine Temp, Trans Temp, Engine Oil, and other values are exceeded, the Banks iQ triggers visible and audible alarms. Constantly monitoring every situation, the iQ and the tuner control performance calibrations ensuring the vehicle's systems maintain safe operating levels. Cold engine protection, torque converter clutch lockup protection, trans slip detection and more ensure miles of trouble-free performance.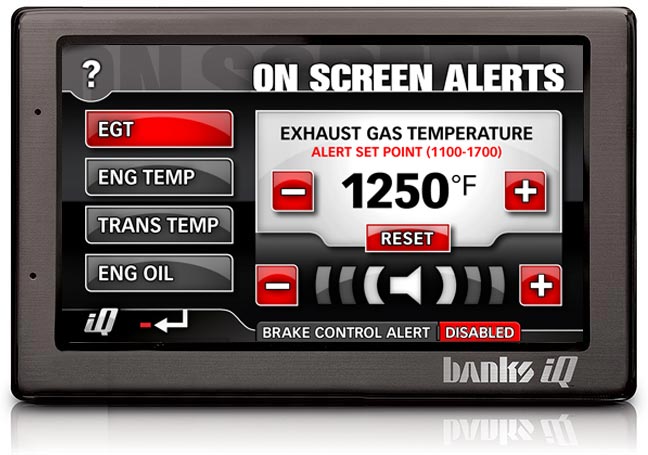 ---
EXPANDABILITY: Internet-Updatable
The Banks iQ is poised for performance now and down the road. Future software updates and apps are downloadable via the iQ's USB port.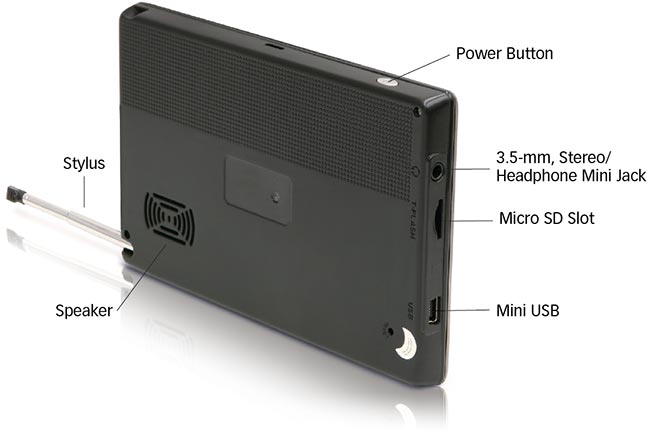 ---
THE KIT: What's In The Box
Banks iQ
OBD-II/CAN communication bridge to optional Banks diesel tuners and SpeedBrake
USB cable for linking to PCs
Suction-cup windshield mount with iQ display clip
Wall charger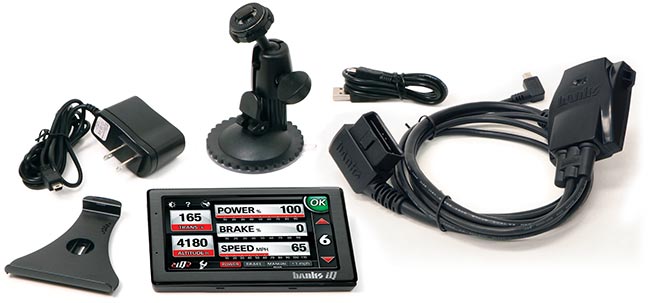 ---
UPCOMING: Future Features
Exciting iQ modules and apps are in the pipeline. Many features will be Internet-downloadable; others will require additional peripherals. We can't reveal all aces-up-the-sleeve features, but here's a tease:
Water/Methanol Control: Minimizes detonation by injecting a water/meth mix to the air-fuel mixture. This cools intake density resulting in more power and better MPG.
Nitrous Control: Allows nitrous oxide solenoids to be controlled by time, boost, RPM, throttle position, and transmission gear settings.
Turbo Timer: Extends turbo life by allowing its oil to circulate and cool down prior to shut-down.
IN SUMMARY…
Obviously, the Banks iQ is more than a window into your vehicle's ECU. A concept that began in 2005 with Banks' Palm-based Power PDA, the Banks iQ is constantly evolving. It affordably bundles features that would cost thousands if purchased separately, with even more expandability to come!
See Complete iQ Specs » see

---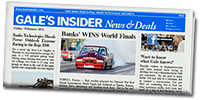 Click here to get "Gale's Insider News & Deals" delivered straight to your inbox so you won't have to worry about missing any events or special offers!